Caruso & Minini 2013 "Terre di Giumara" Inzolia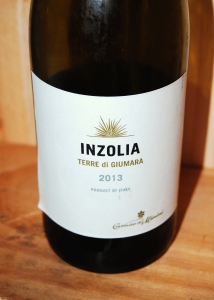 Gotta be up at 6AM tomorrow for a distillery tour. I'm already tired and exhausted and maybe on the verge of being sick, but it's hard to tell if it's the fatigue or if it's the bugs in my system. Let's keep our fingers crossed because it's supposed to be sunny this entire week and I'm excited about that. Brisk air and sunshine! My favourite kind of weather. Now lets try and kill these bugs with alcohol.
You'd think I wouldn't bother buying any wine because I'm already tired and don't need more things to put in my system, but I've never had the grape Inzolia before, in its commoner Marsala form or otherwise. Plus, a warmer climate implies lower acidity with riper fruit, and that's exactly want I want right now. A liquid pillow in my mouth. Soon: my head on an actual pillow, and dreams about happy things, like love and Champagne.
Pillowy it is. Lower acid gives way to riper fruit and a palate that's almost off-dry but not quite; baked pear dominates the flavours, with hints of slightly caramelized banana and pineapple in the background. It's slightly creamy, which is nice – but not blousy by any means – and there's a sprinkle and a half of minerality as well. I dig it, especially at the nice price point.
Tasting Note:
Eyes: clear, pale lemon, legs
Nose: clean, med+ intensity, youthful, green fruit, baked pear, pineapple, hint banana, mineral
Mouth: dry, med+ body, med- acid, med+ intensity, med finish, green fruit, baked pear, pineapple, mineral, baked apple, savoury
Producer: Caruso & Minini
Designation: "Terre di Giumara"
Region: Italy
Sub-Region: Terre Siciliane IGT
Variety: Inzolia
ABV: 12.5%
Vintage: 2013
Tasted: November 9, 2014
Price: $17