Alain Vesselle NV Tradition Brut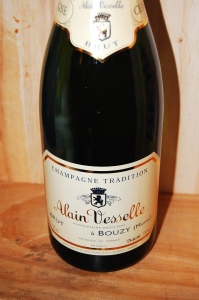 Bordeaux is proving to be a huge section of the WSET Diploma, and so I bought myself a bottle of Champagne as a encouraging self-bribe to get through the damn section. A region so based in its trade, producers, and viticulture leads to meaty entries in the Oxford Companion to do with who married who to get their name on this Château and so forth, along with the different polysaccharides that Botrytis cinerea produces during its metabolism. It's literally like reading those hideously long entries in the Bible on family trees (or was that Lord of the Rings?), combined with a university chemistry textbook. I'm only approaching the right bank's regional entries now as I prematurely decide to open this bottle of Champagne, because I can't wait and I'm thirsty as fuck.
This isn't the loudest-scented Champagne, but it seems to be revealing itself slightly as it warms up. Ripe apples and baking spice join hints of nuttiness and autolysis. The palate is much more expressive with the apples becoming more baked, the nuttiness being more broad, and a palate that seems like it's on the higher end of Brut (0-12 g/L); that being said, acid is on the lower side of high, sort of like if Alain Vesselle were Moses, the Red Sea were acidity, and the Israelites were ripe pomaceous fruit. The finish is distinctly floral and mineral, and the finish is relatively long.
The wine itself isn't tremendously complex, but I enjoy the uncomplicated style that still has more personality than the more sterile versions of the bubbly from the same region.
Also, can we have a moment to appreciate the hilarious Neopets-esque 30-second music loop on their website? Oh my God, I just discovered a next-song button in the bottom right corner. It just gets better and better.
The producer has no mention in the latest edition of Tom Stevenson's World Encyclopedia of Champagne and Sparkling Wine, but listed are a Georges Vesselle, Jean Vesselle, and a Maurice Vesselle – all in Bouzy, and all grower-producers except for Jean who is an NM. I'm wondering if Alain is the hippie underdog, producing the smallest amounts and opting for music that makes it seem like they do yoga in the vineyards.
Tasting Note:
Eyes: clear, pale lemon, bubbles
Nose: clean, med intensity, developing, mineral, green fruit, green apple, hint yeast, hint brioche, hint nuttiness, hint spice
Mouth: dry, med body, med+ acid, creamy mousse, med+ length, med+ flavour intensity, mineral, green fruit, baked apple, nuttiness, savoury, med alcohol
Producer: Alain Vesselle
Designation: Tradition; Brut
Region: France
Sub-Region: Champagne
Variety: Pinot Noir (97%), Chardonnay (3%)
ABV: 12%
Vintage: NV
Tasted: October 20, 2014
Price: $65