When life gives you rot, make it noble: Château Coutet Sauternes-Barsac 2000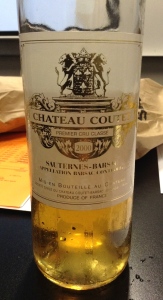 [Tasted during WSET Diploma – Unit 3 – Week 3: Bordeaux]
I was in the middle of tasting the first three wines in our second flight when I saw the instructor pouring the first bits of the fourth wine into her own glass. Bordeaux class, so Sauternes, unquestionably.
Yeah, gurl.
How often do you get to try one of the most prized dessert wines of the world? I'm not bragging, because all we get is a wee dram enough for tasting, and God knows I'm poor as fuck from WSET diploma tuition, anyways. This is as close as it gets, except for that time I knocked over my boss's glass of Château d'Yquem. It shattered all over the floor and in perceived slow motion, I'm sure.
Sauternes is a dessert wine from the southern part of Bordeaux; Barsac is something of a subregion of Sauternes, and both are located near other dessert wine appellations: Cérons and Loupiac come to mind, though the actual region of Sauternes is where these dessert wines achieve the best quality. The region, due to the conjoining rivers which surround it, achieves some form of morning mist which encourages Botrytis cinerea to thrive on the grapes, and the fungus develops into the form of noble rot rather than grey rot as the afternoon sun dries the grapes out. What blossoms, as a result, are grapes concentrated with sugars, flavours, and acids, along with a distinct and interesting honeyed Botrytis character – one that I'm still working on describing. There's something so supernatural and magnificent about harnessing rot, out of all things, to create one of the world's most expensive and natural drinks.
What sets Sauternes apart from other sweet wines in a blind tasting is the liberal usage of oak, which imparts a distinct vanilla scent. This wine is mainly perfumed with stone fruits, with honeyed peach, ripe apricot, and ripe nectarines covered with vanilla cream, along with baking spice, hints of earthy mushroom, and a bit of Botrytis funk. The palate is lusciously full-bodied and mouth-coating, carrying the same flavours on the palate with more intensity. Amazing concentration, length, and complexity – though being so full-bodied and succulent, the wine does lack some freshness and acidity on the palate. That to me says this is peaking, but for such a wine, the peaking window is still so large.
Even as a first growth this is a great price. Sweet wines are at a trough in the graph of popularity, and it's such a shame.
Tasting Note:
Eyes: clear, med gold, legs
Nose: clean, med+ intensity, developing, mineral, botrytis, oak, honey, apricot, peach, nectarine, ripe lemon, mushroom, cream, spice
Mouth: luscious, full bodied, med to med+ acid, med+ alcohol, pronounced flavour intensity, vanilla, honey, oak, apricot, peach, nectarine, botrytis, hint of mushroom
All in all: Very good quality: the luscious and concentrated Sauternes boasts a prolonged finished and funky complexity that complements the honeyed stone fruit. That being said, the wine falls sort of a bit of acid and lift on the palate. Drink now: not suitable for ageing or further ageing.
Identity Guess: Super-premium Sauternes from Bordeaux, France; 9 years old.
Is really: Super-premium Sauternes-Barsac from Bordeaux, France; 14 years old.
Producer: Château Coutet
Designation: N/A
Region: France
Sub-Region: Sauternes-Barsac, Graves, Bordeaux
Variety: Semillon, Sauvignon Blanc…
ABV: 14%
Vintage: 2000
Tasted: October 27, 2014
Price: $115