Liquid tarte tatin: 2005 Château de la Roulerie Coteaux du Layon Chaume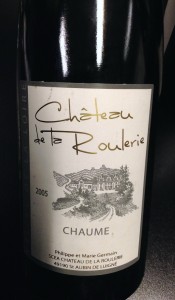 [Tasted during WSET Diploma – Unit 3 – Week 2: Loire Valley]
The last wine of the evening was a beautiful deep gold, and you just absolutely knew this was going to be some luscious sweet thing that you'd just pretend to spit. What's fantastic about Chenin Blanc is that it has this piercing acidity that's present in many of the wines it produces – so even for a sweet and full-bodied wine like this, there's still this cleansing quality that stabs through the syrup to keep it youthful and crisp, even for a 9-year-old wine. Such a fantastic balance between the acid, sugar, and fruit, along with a lingering finish. This was revealed as $30 at 500mL and one classmate started giggling in disbelief.
Quarts de Chaume is a small area within the Coteaux du Layon, which is within Anjou, which is in the Loire Valley of France. Such sweet wines in this small area are only produced in the best vintages and as a result of factors like noble rot.
The suggested food pairing by the instructor was tarte tatin because of all the delicious parallels – ripe apples, mostly with kisses of ripe stone fruit and a honeyed spirit. Botrytis, the fungus that dries out the grapes and concentrates the flavour elements, gives a unique character to the wine, though it's still a note I'm trying to get used to picking up in wines affected by its capricious presence. My only regret is that it was the last wine of the night and we only had a couple minutes to savour it before returning to real life.
Tasting Note:
Eyes: clear, deep gold, legs
Nose: clean, med+ intensity, developing, ripe green fruit, ripe stone fruit, ripe green apple, ripe peach, apricot, mineral
Mouth: sweet, full-bodied, high acid, med alcohol, pronounced flavour intensity, ripe green fruit ripe apple, ripe stone fruit, ripe apricot, long length, savoury minerality
All in all: Very good quality: there is a wonderful balance of juicy acid, intense fruit, and luscious sugar. The wine is also concentrated and long-lasting, and ageing will reveal more complexities. Can drink now, but has potential for ageing.
Identity Guess: High-priced Quarts de Chaume from Loire Valley, France; 5 years old.
Is really: High-priced Coteaux du Layon from Loire Valley, France; 9 years old.
Producer: Château de la Roulerie
Designation: N/A
Region: France
Sub-Region: Coteaux du Layon Chaume AOC, Loire Valley
Variety: Chenin Blanc
ABV: 12.5%
Vintage: 2005
Tasted: October 20, 2014
Price: $30 (500mL)