I don't even know why I guessed Hermitage: 2011 Emiliana "Coyam"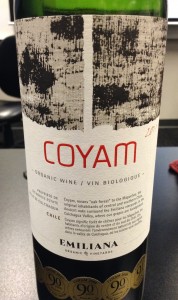 [Tasted during WSET Diploma Unit 3 – Week 1]
I don't even know why I guessed Hermitage, because I've never had one, and there's no way they're going to display something that rare (in this market) and expensive on the first day. But sometimes it's almost like designing (or maybe I'm just watching too much Project Runway in between my tasks which results in garbage fashion analogies), because given the circumstances, it's important to make it look (or taste) expensive. Or something like that. Maybe ignore this paragraph.
The reveal of Chile seemed so obvious, afterwards, though before landing in the northern Rhône I did venture a Touriga Nacional-based blend from Portugal, if that gives you any more idea about how punchy yet spicy and earthy this was. And tight, for that matter. It's a pretty big and purple beast.
Intense dark fruits and pepper on the nose yelled Syrah to me, but I missed the bits of green pepper from the addition of Cabernet Sauvignon and Carmenere, which seemed to be there after the suggestion of it. There was a hint of playfulness in the background which I blasphemously noted down in hurried writing as "hint confection?", and there was quite a bit of that raisiny dried fruit on both the nose and palate.
It literally just struck me right now that the wine's label is familiar to me because I had it with several other wines at a friend's house a couple weeks prior. Is this the wine equivalent of getting drunk, having a one night stand, and then bumping into that same person later and not remembering their name?!
I'm such a wine slut.
Tasting Note:
Eyes: clear, deep purple, legs
Nose: clean, med+ intensity, developing, black pepper, spice, raisin, dried black fruit, earth, mineral, oak, green pepper
Mouth: dry, med+ body, high acid, high soft tannin, med+alcohol, med+ flavour intensity, med+ length, plum, spice, black pepper
All in all: Very good quality: concentration and intensity are the obvious strengths of the wine, and so are the heavy and persistent flavours. The wine has some tightness which masks the flavours and needs some time to tame its brash character.
Identity Guess: High-priced Syrah from Hermitage, France; 4 years old.
Is really: High-priced Syrah-based blend from Colchagua, Chile; 3 years old.
Producer: Emiliana
Designation: "Coyam"
Region: Chile
Sub-Region: Valle de Colchagua, Rapel Valley, Central Valley
Variety: Syrah (38%), Carmenere (31%), Merlot (19%), Cabernet Sauvignon (10%), Mourvedre (1%), Malbec (1%)
ABV: 14.5%
Vintage: 2011
Tasted: October 6, 2014
Price: $30