Liquid Love Handles and Marshmallows: 2011 Treana White
Tasting Note:
Eyes: clear, med+ lemon, legs
Nose: clean, med+ intensity, developing, oak, vanilla, baking spice, sweet spice, marshmallow, stone fruit, nectarine, orange peel, floral, perfume, ripe citrus, nuts, honey, hint tropical
Mouth: dry, full bodied, med acid, high alcohol, med+ intensity, savoury, oak, butter, ripe citrus, orange peel, savoury, baking spice, sweet spice, peach, floral, nutty, med+ length
All in all: Good (to very good) quality: one of the poster children of complex hedonism. Fantastic concentration, body, and balance of oak – but the alcohol is slightly imbalanced, and the structure may be lacking for some consumers. Drink now, not suitable for ageing.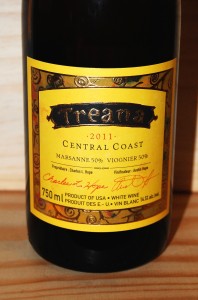 I haven't had wine in 9 days (for some dumb pseudo-reason like being really sick or whatever) with a few servings of both horrible and delicious beer in between. I'm pretty sure I've thrown off my whole rhythm and I'm feeling tired at the weirdest moments, so I decided to cannonball right back into wine with a blanket of huge Californian girth.
Plus, I'm studying for the certified level of the CMS, which means I'm have to at least try to study the possible wine varieties we'd be given on the tasting exam. I'm cheating because this is half Marsanne and half Viognier, but I really couldn't help it because this is one of Erin's favourite wines and apparently it tastes like marshmallows. And I don't care if it's the cheap kind of marshmallows, because drinking marshmallows sounds pretty fucking exciting right about now. We also at one point agreed that Treana would be my sassy Mean Girls name, so yeah.
The marshmallow thing was no exaggeration – there is judicious oak usage on both the nose and the palate, and there's a distinct note of orange zest that hides behind the fruity cocktail of baked stone fruit and ripe citrus. There's nothing old world about this wine – it drinks like liquid love-handles, and the full-bodied wine has a fantastic cleansing nutty savoury quality with just enough acid to boot. The finish is relatively long and nutty, but the alcohol is quite evident. Both unsurprising and personally trivial at this point.
It's a nice alternative flavour profile to the stereotypical fat blob that Californian Chard can be, but with the same body that it can have.
I'm sure that this wine is a one-off that the BCL has been dying to get rid of (evident by the shifty-looking price-tags and lack of presence on their website) so I'll make sure I don't fall too much in love with this one.
Producer: Treana
Designation: N/A
Region: California
Sub-Region: Paso Robles, Central Coast
Variety: Marsanne (50%), Viognier (50%)
ABV: 14.5%
Vintage: 2011
Tasted: September 10, 2014
Price: $35