Like Moose Mason from the Archie Comics: 2010 Cailleteau Bergeron "Tradition" Côtes de Bordeaux
Tasting Note:
Eyes: clear, deep ruby, legs
Nose: clean, med+ intensity, developing, dark fruit, black cherry, blackberry, cassis, hint oak, spice, plum, mineral, earth, hint ash, hint dried black fruit, small hint of green, dark chocolate
Mouth: dry, med+ body, med acid, med+ slightly coarse tannin, med+ alcohol, med flavour intensity, cassis, dark fruit, cassis, plum, mineral, much more earth-driven on palate, hint spice, hint ash, long length
All in all: Good quality: though the flavours are a bit tight on the palate due to tannins that need time to loosen up, there is a long earthy finish and a modestly developed nose. Can drink now, but has potential for ageing.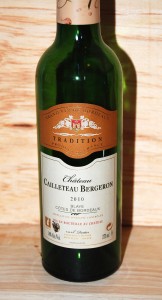 I ate way too much for dinner so I decided that beer wasn't the best thing to have after work – so between wine and spirits, I went with a half-bottle of the former. That and I legitimately cannot remember the last time I consciously bought a Bordeaux only because I'm afraid of them at the so-called "moderate" or "everyday" price point. I decided a half-bottle was less risky.
There's the disclaimer that I'm drinking this without any form of decanting, because it's midnight and I want to drink. Suck it.
The wine has a distinct profile that I haven't smelled in a while. Despite the fact that the wine is heavily dominated by Merlot compared to Cab (90/10), there's a distinct blackcurrant character that reminds me of – and maybe it's because I have beer on the mind – a vaguely similar blackcurrant note that I've had in beer (more specifically, the Driftwood Lustrum Anniversary Sour Ale, if you cared enough to wonder). Merlot manifests itself with dark cherry and dark plum notes. Only a mere hint of oak on the nose is confirmed by the spec sheet – the wine has only seen 20% of itself in French oak.
The palate isn't as revealing, but it's starting to open up in the glass – the plummy character hides behind some earthy tannin and some woody spice. The acid isn't as high as I thought it would be which is sort of nice for an after-work unwinder, but what's impressive is the persistent and earthy finish. I'd definitely love to see how this wine would develop with age. (And though half-bottles age faster than their normal counterparts due to the greater wine-to-cork (and therefore oxygen) contact, I can't say this would differ too much than the full bottle at the current moment because these particular wines have only been bottled in 2012.)
Bordeaux – even in Merlot-dominated forms like this – can be pretty muscly. This wine is pretty big and mainstream like a jock, but has a plush centre. I'm calling this one Moose Mason from the Archie Comics.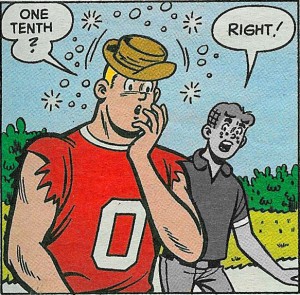 Producer: Cailleteau Bergeron
Designation: "Tradition"
Region: France
Sub-Region: Blaye, Côtes de Bordeaux, Bordeaux
Variety: Merlot (90%), Cabernet Sauvignon (10%)
ABV: 14%
Vintage: 2010
Tasted: July 4, 2014
Price: $15 (375mL), $27 (750mL)