Dido – "Thank You": 2009 Kumeu River Village Chardonnay
Tasting Note:
Eyes: clear, med lemon, legs
Nose: clean, med+ intensity, developing, pear, citrus, white peach, melon, cream, lees, hint butter, hint oak, mineral, flint, nuttiness
Mouth: dry, med+ body, med+ acid, med alcohol, long finish, med+ (to pronounced) intensity, cream, butter, lees, pear, white peach, mineral, savoury, lemon, nuttiness
All in all: Good (to very good) quality: the developmental secondary characteristics are showing fantastically, with intense lees-y and buttery flavours coming through on both the nose and the palate. The wine retains structure and isn't blousy, but could use a hint more concentration and complexity. Drink now, but suitable for short-term ageing.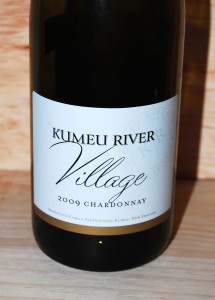 It's currently a cloudy Vancouver day. We've had the rounds – a cold and grey morning, mist here and there, some heavier rain in the afternoon, and the weather gods have decided to reign back on the rain (pun intended), so we're back to a slightly muggy greyness. But it's great and I'm enjoying it, since it's a nice refreshing change from the sun, and all I wanted to do after work on a Sunday was go home, open wine, and take my pants off. It's one of those days. One of those "my tea's gone cold I'm wondering why I got out of bed at all" days. Hence the choice of a hedonistic heavier Chardonnay, chosen to emulate a liquid blanket. I'm sure there's a warm milk and malolactic fermentation joke in there somewhere.
As per the bulk of Chardonnay – and aged Chardonnay, for that matter – the fruits aren't in the forefront in a way that it's almost difficult to pick the varieties of fruit out of the wine. The nose has an intense lees-y butteriness with layers of red apple and melon. It's not a Californian butteriness either – it's not a blousy sweatpants sort of style and the wine drinks like a pair of trousers with a belt for structure. There's some mineral notes on the nose, and I'm sure I would place this in a riper area of Burgundy if it wasn't for this weird freshness I'm getting from this wine, which I'm attributing to screwcap. There's a mere hint of spritz which I'm hoping is natural and not from secondary fermentation (and can't be, anyways (?), since the wine apparently has gone through 100 percent secondary malolactic fermentation). In any case, I've had a chat with a colleague that said that wines aged under screwcap will always have this HD freshness compared to an equivalent wine aged under cork.
Along with the brightness, the wine has a drawn-out savouriness on the palate which lasts deliciously long.
Fantastic middling example of developed Chardonnay – not too huge and buttery but retains finesse from both screwcap closure with developmental lees and oak tones. I'm diggin' it.
Producer: Kumeu River
Designation: Village
Region: New Zealand
Sub-Region: Kumeu
Variety: Chardonnay
ABV: 13%
Vintage: 2009
Tasted: July 20, 2014
Price: $27