Wine Bloggers Conference 2014 – Blends: 2 + 2 = 5?
Okay! So flashback to Day 2 of the the Wine Bloggers Conference: it's one of those times where we have to choose between three different seminars. There's a seminar each on Merlot (hosted by Rutherford Hill and Duckhorn wineries), something on "How Pros Taste" (hosted by Jackson Family Wines), and then one on wine blends (hosted by Winebow), the last seeming like a strangely divergent topic from the former two. And I know – I should probably be basking in the Californian-based seminars (when in Rome etc.), but I couldn't help but be intrigued by something less specific and more amalgamate in style i.e. the idea, at the time, of trying a row of Napa Merlots in the California heat made me scrunch my face. And how often are there wine seminars on blends?
The tasting venue took place under a large white tent, perfectly effective were it not for the intense blowing winds which I feared would make any wine glasses turn over, but then again it would provide me with an excuse had my propensity to naturally do so kicked in first. Remember that time I knocked over my boss's glass of Château d'Yquem?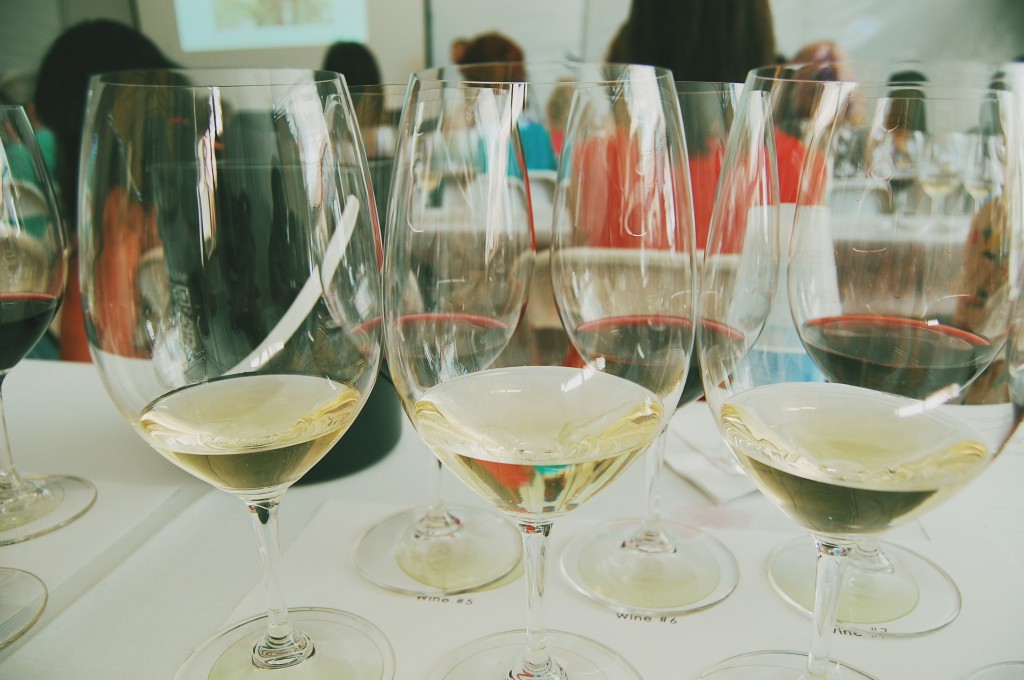 We discussed the purposes of blending grape varieties together and tasted seven different wines (blind) that each illustrated a distinct example. For example, blending is often done as some practical form of insurance in areas such as Bordeaux, where certain grapes respond differently to certain weather disasters, and blending provides that opportunity to create wine despite possible unfortunate weather patterns. Blending can also allow for adjusting, whether that be to add acid (among other factors) where some grapes may lack in that regard, or add flavours and complexity, like cooking. A dash of Syrah to a Bordeaux blend can be like adding smoky black pepper to your recipe.
Needless to say my tasting chops were not up to par that afternoon, especially after just having done the speed tasting, and I got like none right.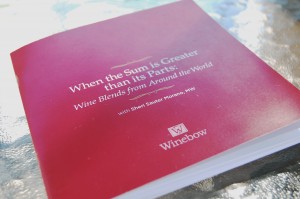 2008 Juvé Y Camps Cava Reserva de la Familia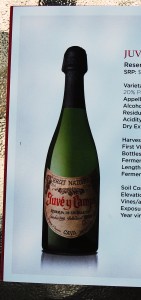 Champagne is mainly made of up three grapes, as is Spain's answer to Champagne, known as Cava. In this case, we discussed how the three grape varieties add something different to the mix: Xarel-lo is the heaviest grape variety which adds a rich earthiness (though this sometimes veers into an idiosyncratic Cava rubberiness); Parellada generally adds a light fruity featheriness; and Macabeo, which is the most commonly planted of the Cava varieties, adds some form of vague pomaceous fleshiness.
The wine itself was delicious and typical for Cava – fruity but yeasty, fresh, mouth-filling, and something no one would have caught me swallowing since I was sitting in the back row, and that's also a sentence I never want to repeat. Like, for now, though.
2013 Tasca d'Almerita Regaleali Bianco Sicilia IGT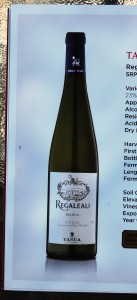 Aha! A blast from the past. It's really cool when you see a seemingly esoteric wine in a market either than your own, so I was pleasantly surprised to see this pop up on the screen. Mostly medium-intense ripe citrus and stone fruits with a ring of floral nuttiness. Definitely some notable acidity and body on the palate. It was just ripe and promiscuous enough for me to meander an incorrect new world guess. I'm judgemental like that.
It's a blend of Greciano (43%), Catarratto (23%), Inzolia (22%), and Chardonnay (12%), once again displaying how different grapes contribute something different to a blend – but it was noted that the former three grapes share close ancestry. It's possible, then, that, at first, these grapes were simply blended because they were in each other's proximity. Coincidental deliciousness. (I'll add that to my list of prospective stripper names.)
2013 Weingut Wieninger Wiener Gemischter Satz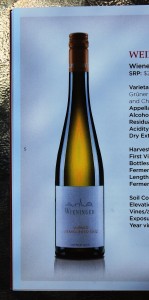 This was a wine that was definitely old world – the neutral-esque nose was chock full of mineral, floral, citrus pith, nutty, and spice aromas. The palate had structure but also a hint of a savoury salinity. The key here was the benchmark white peppery spice of Grüner Veltliner, which in this wine took place in a field blend of itself, Weissburgunder (aka Pinot Blanc), Welschriesling, and Chardonnay.
What's cool about this wine and its appellation is that it focuses on its sense of place: the rules for the area hardly dictate the dominant grape variety and instead focus on capturing the character of the area through the eyes of each grape variety in a blend.
2012 Fattoria Le Pupille Morellino di Scansano DOCG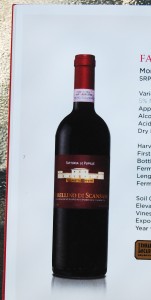 Compared to the last taster, we arrive at a wine where the main grape is supported by small proportions of other group members. The wine is predominant in Sangiovese (90%), with small parts of Malvasia Nera (5%) and Alicante (5%) dashed in. Of course, Sangio is the obvious Beyoncé in this blend, with Malvasia Nera providing some power and Alicante providing colour with its red fleshy insides (one of the few grapes with that superpower). The wine itself was exactly as you'd expect for a Sangio-dom, with dried cherries, herbs, and cooking spice as main flavours. The wine was medium-bodied, with a fair amount of structure and chalky tannins.
(But let's be real here: Beyoncé is probably definitely Viognier.)
2011 Wine & Soul Quinta da Manoella Red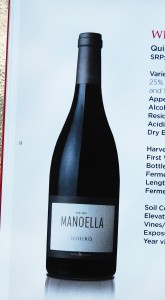 It's hard to believe that dry Portuguese reds are a recent phenomenon on a global scale because they're just so darn tasty. We tried a red that was a blend of five varieties. Touriga Nacional made up most of the blend at 60%, and it's known as the most important Port grape variety for its concentration and flavour, though it's not the grape that's grown most for Port production. That medal goes to Touriga Franca (25% in this wine) which is lighter and adds finesse and elegance to the blend. Tinto Roriz and Tinta Francesa apparently add freshness and aromatic intensity, respectively.
Even throughout the Portuguese wines tasted earlier that day for brunch, I still get this interesting dried herbal character from a fair proportion of Portuguese wines. This was no exception, and the purple-coloured wine was also pepper-scented with deep plummy and dark fruit aromas, finishing on the palate with slightly coarse tannin to tame the spicy fruit. There were some raisin and dried fruit flavours that hinted at this wine being some sort of dry Port-esque thing.
I think this was also the point in time where I began to ogle at how cheap the wines were, and then I remembered that I was in California, and I'm from British Columbia. Multiple tears were shed, including one for each legal Port grape variety (some number between 20-30, I'm sure, but I don't care to remember because my exam was in June).
2011 Bodega Renacer Enamore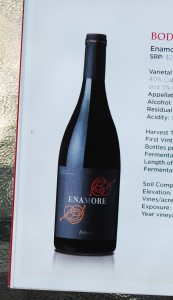 Yet another wine found in our local BC market – one that I'm actually quite familiar with, and once we kept discussing it, I was sure this was, well, it. Perhaps it's because my palate was overwhelmed that afternoon, but this wine always seems to express itself slightly differently each time I taste it – this time, the wine was much less meaty and slightly more fruity, though descriptors from others such as "iodine" and "bacon fat" were thrown around. There was definitely a sweet smokiness on both the nose and the palate.
It's composed of mostly Malbec (45%) and Cabernet Sauvignon (40%), with backup singers of Bonarda (10%) and Cabernet Franc (5%). The wine and its anagrammed name are an ode to the old world Italian Amarone, where grapes are dried before vinification which concentrates acid, sugars, and flavours. One girl I know buys this wine as something that's impressive but not over the top, for those days where you want to look cool in front of a date without trying too hard. I usually go with Spätlese but hey gotta keep them ideas fresh.
2010 Cousiño-Macul Finis Terrae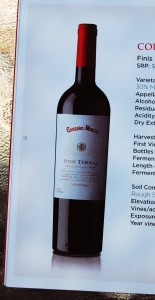 I was sure this wine was from the old world so much that I wrote down "old world" and then circled it like it was my one last hope of getting a smidgen of correctness in the flight, but I was really just thrown off by the Southern France-like complexities. It doesn't surprise me that the winemaker Pascal Marty has, according to the booklet blurb, studied agricultural engineering and oenology in Bordeaux as well as worked in Pauillac on some pretty iconic classified growth Bordeaux.
Cabernet Sauvignon and Merlot are classic partners in the comedy duos of wine – Cabernet Sauvignon provides structure and black fruit, while Merlot adds the lush mid-palate and plummy fruit. Syrah isn't a classic addition to such a blend but in this case it added some form of olive and garrigue character, with hints of bacon fat that maybe came from the power of suggestion. I was sure that this was Bordeaux.