If Bruce Banner were into leather: 2012 Juan Gil "4 Meses" Jumilla
Tasting Note:
Eyes: clear, deep ruby, legs
Nose: clean, med+ intensity, youthful, black fruit, blackberry, cassis, cola, cooked black fruit, spice, earth, brown sugar, soy, vanilla, white pepper, hints of leather, jam, raisin, cinnamon, dark chocolate, black cherries, hint gamey
Mouth: dry, med+ body, med acid, med+ fine tannin, med+ length, high alcohol, med intensity, raisin, black fruit, jam, spice, pepper, hints of earth
All in all: Good (to very good) quality: the wine excels when it comes to concentration – and to a slightly lesser extent, its length and intensity. The balance falls slightly with the fine yet blanketing tannins, and the alcohol balance reveals the slight clunkiness of the wine. Drink now, but has potential for short-term ageing.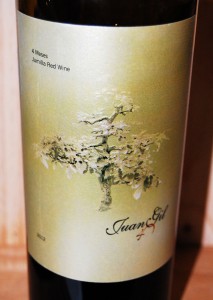 What I surely did was make a mistake in opening a huge red on a muggy night. The refreshing rosé I decided to open was unfortunately off, so for some reason I turned to the wine rack and picked the biggest red of the drink-now sort of variety – and after writing that tasting note I immediately regret it. It's a fantastic wine – but somehow its weight and its mouth-coating quality add to the temperature in this room, which has a small oddly-placed window that hardly lets out any heat. After any sort of hot shower on a hot day followed by a dry-off in my room always ends up like some form of locker room steam situation. Or something.
The wine is reminiscent of something or someone big and bold, yet is shadowed and shows restraint in character with leather reins made of tannin along with secondary coffee and spice characteristics. But it's a mouthful. If you want a non-alcoholic approximation, drink coffee dusted with chocolate powder – then have a leather daddy stuff berries into your mouth with his Doc Martens. It's a forceful wine that's reminiscent of the fruit-forward (ha) jam-bombs of California (whatup, Zin?), but there remains this secondary spicy character full of cinnamon, coffee, and some vanilla – a great transition wine for anyone stuck in the new world trough of jammy Californian wines. It's also notable how a mere 4 months of oak can impart that much instant and hedonistic complexity.
Perhaps it's more like the Hulk or Bruce Banner – brooding and studious tones of dark fruit and coffee on the nose, but exploding with strength on the palate. There's admittedly a little less leather than I'd like (in the wine), but apparently it's more prominent with age (in the wine).
The wine has its shortfalls when it comes to its alcohol content – it comes off as a little hot, but I'm not sure leather daddies – or the Hulk, for that matter – are supposed to be elegant, anyways. The alcohol and ripe fruit give a slight impression of sweetness. I'm not sure it's what I want on a muggy Vancouver night but I'll take it. (The wine.)
Producer: Juan Gil
Designation: "4 Meses"
Region: Spain
Sub-Region: Jumilla
Variety: Monastrell
ABV: 15%
Vintage: 2012
Tasted: June 26, 2014
Price: $20