"Cherry on Top" – Oh Land: 2012 Lavau Tavel Rosé
Tasting Note:
Eyes: clear, med+ pink, legs evident
Nose: clean, med+ intensity, youthful, red fruit, cherry, raspberry, mineral, rhubarb, floral, rose petal
Mouth: dry, med body, med+ acid, med- ripe tannin, med alcohol, med flavour intensity, med+ length, earth, mineral, floral, rose petal, red fruit, cherry, raspberry, savoury
All in all: Good (to very good) quality: this dry style of rosé from Tavel maintains balance and structure with its round acidity and subtle tannin. There is relatively long length and great intensity, but there could be slightly more complexity. Drink now, but has potential for short-term ageing.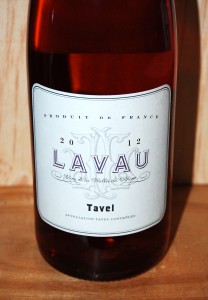 Post WSET Diploma Unit 5 + 6 exam wine! I decided against buying anything sparkling just because symbolism. Bye. I can never outright deny a glass of bubbly if ever offered, but now I can get back to drinking still wines and not feel weirdly guilty about it.
Plus, it's summer. It's rosé time, and I don't even care who you are right now.
On the scale of rosés, Tavel is on the opposite side of the syrupy nothings that people often think that rosé is all about – I'm thinking the sweetish white Zinfandels or Baby Ducks of the world. Tavel is legitimately more interesting – because compared to other old world rosés (or most rosés for that matter), this rosé-only region is known for its structure and body, to which longer skin contact and higher grape ripeness can be attributed. And then the best can apparently age – which can be a weird paradoxical-sounding thing for rosé. It's like you have the sunshine in the bottle, but you have to wait until it's an uncommon resplendent orange smattering of a sunset.
The wine has a beautifully intense nose that balances fruit and earth. Though the palate mirrors the fruit character, it quickly becomes overtaken by this streak of earthy minerality that finishes savoury. The relatively high acid is well-eclipsed and there is a mere suggestion of tannin. There's a fantastic give-and-take with the fruit and earth components, especially on the palate.
I feel that Tavel is a super underrated region despite its relatively well-known name – but as summer approaches, crowds of people begin to crave high quality examples from both sides of the spectrum. And I can't help but pair this wine with a song that not only shares flavours within its title, but also embodies ideas of patience and some level of undervaluation. Plus, there just seems something so right about ballet and old world rosé.
Producer: Lavau
Designation: N/A
Region: France
Sub-Region: Tavel AOC, Rhône Valley
Variety: Grenache (50%), Cinsault (45%), Syrah (5%)
ABV: 13%
Vintage: 2012
Tasted: June 10, 2014
Price: $28