Oberyn Martell: 2005 La Rioja Alta "Viña Arana" Reserva Rioja
Tasting Note:
Eyes: clear, med ruby, legs
Nose: clean, pronounced intensity, developing, mineral, earth, brettanomyces?, dill, red fruit, dried red fruit, cherry, raspberry, hint dark berries, leather, green tea, menthol, coffee, tobacco, soy
Mouth: dry, med body, med+ acid, med- fine tannins, med alcohol, med+ to pronounced intensity, red fruit, dark cherry, earth, tea, oak, dried herbs, long length
All in all: Very good (to outstanding) quality: the wine is complex and multi-layered. The palate is an elegant style for Rioja and is persistent, though a little more concentration and complexity on the mid-palate would have fleshed this wine out to its best. Drink now, but suitable for short-term ageing.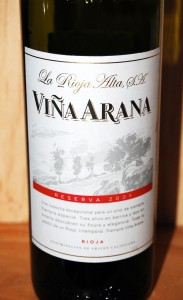 Let's make this a quick one! I'm rushing through these flash cards like a madman – a madman who takes a break every 5 minutes to watch internet videos he's already seen five times over. But I've attempted to study Port and then I gave up in the midst of studying vins doux naturels – and then I felt sad somewhere in the middle and decided to watch the first half of the first season of Girls instead. This is how I deal with life.
Reserva Rioja – not that I care to swan dive right into the numerical details, but the designation means that it's spent some time in American oak. That's where those herbal dill notes come from, along with the vanilla, which at this stage is well-integrated and sitting in the glass complacently. Red fruits on the nose with distinct red and black cherries, a bit of raspberry (and strawberry for that matter), a generous scoopful of earth (forest floor or whatever), and what seems to be a bit of stinky brettanomyces, but I'm not 100% sure. That beautiful developmental character of earth and leather is coming through. Classic Rioja on the nose, especially with that hint of soy sauce which I've gotten to know as a weird asian benchmark for Rioja.
I'm used to Rioja that are much more full in body, but the palate still has an intense and ripe palate with a soft but strong and present backbone, hence the Oberyn thing. It's that whole juxtaposition of soft and hard, or laid-back but powerful. (Maybe I'm just making this comparison because I for some reason equate Dorne with some pseudo-exotic Spanish-speaking country like, well, Spain, even though Pedro Pascal is from Chile but whatever.) The wine is unsurprisingly savoury and quite alive. It's delicious. As is Oberyn.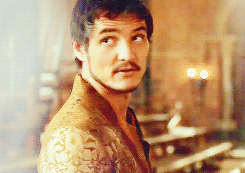 mmmfff.
I'm trying to decide between watching more episodes of Girls or doing some writing, but I'm heavily leaning towards the latter. Or both?
Producer: La Rioja Alta
Designation: "Viña Arana"; Reserva
Region: Spain
Sub-Region: Rioja
Variety: Tempranillo (95%), Mazuelo (Carignan) (5%)
ABV: 13%
Vintage: 2005
Tasted: May 16, 2014
Price: $45