"White Nights" – Oh Land: 2013 8th Generation Pinot Meunier Rosé
Tasting Note:
Eyes: clear, med pink, legs
Nose: clean, med+ intensity, youthful, red fruit, rhubarb, citrus, strawberry, floral, hint roses, hint herbaceous
Mouth: off-dry to medium-dry, med body, med- acid, med- alcohol, med length, pronounced flavour intensity, red fruit, candied strawberry, rhubarb, floral, roses, hint spritz, little to no noticeable tannin, slightly woody finish
All in all: Good quality: the wine is deliciously gulpable with pronounced melodies of strawberry, rhubarb, and some floral notes. A bit more structure, finesse, and length would make this wine sparkle.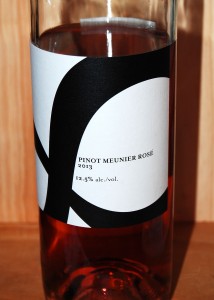 This wine serves to be a bit of a delicious double-edged sword for me at the moment. I've been craving an off-dry no-nonsense drink-all-of-me wine since the rainy morning. And I was doing so well for not having had a drink for two days in a row, but here I am. (Third time's a charm?) I'm also supposed to be doing WSET Diploma exam preparation for the sparkling and fortified units which takes place in June – and this isn't even a sparkling or fortified wine so I can't even use that excuse, nor will I have the willing sobriety to even study after a good fifteen minutes of consuming even a bit of this wine. But I'm convincing myself that this is a nice excuse to study a bit of Pinot Meunier, the understudy of the three main grapes in Champagne. So there.
The wine is whimsical in both theory and taste. Pinot Meunier is not a grape you typically see by itself in its lonesome blatant youthful character. In sparkling wines (e.g. Champagne), it mostly serves to contribute some form of youthful upfront fruit which isn't really meant to age for super long periods, sort of like how casual Fridays attempt to make the workweek a little less austere, or how the drunk uncle might spice up a positively boring wedding. This rosé captures Pinot Meunier's playful, soft, and unpretentious nature, displaying melodies of mostly strawberries, rhubarb, and some floral character. A hint of spritz on the palate. Pair with Oh Land's "White Nights", to which this wine would dance if it were a person.
The wine almost veers into gummy bear territory, but the intensity of the flavours on the palate balance it out. I suppose the wine could have a bit more structure and finesse, but perhaps we would also lose its Seussian nature. It does have a bit of sweetness and candor, but it has enough depth to be a wine worth raving about.
This wine is bringing me summer sun when Vancouver is only bringing me rain.
(17g of sugar per L; 24 hours skin contact.)
Producer: 8th Generation
Designation: N/A
Region: Canada
Sub-Region: Summerland, British Columbia
Variety: Pinot Meunier
ABV: 12.5%
Vintage: 2013
Tasted: April 24, 2014
Price: $25