Semen of Dionysus: NV Seppelt "GR 113" Rare Muscat Rutherglen
Tasting Note:
Eyes: clear, deep brown, legs
Nose: clean, pronounced intensity, fully developed, figs, Christmas cake, spice, wood, earth, mineral, brown sugar, raisin, cinnamon, nutmeg, white pepper, dried fruit, burnt toffee, ripe citrus, hint floral
Mouth: luscious, full-bodied, med fortification, med- acid, long length, pronounced intensity, cola, fig, earth, spice, cinnamon, nutmeg, brown sugar, Christmas cake
All in all: Outstanding quality: given its style, the wine is balanced, intensely flavoured, boasts complex characteristics, and has a very long length. Drink now, not suitable for ageing.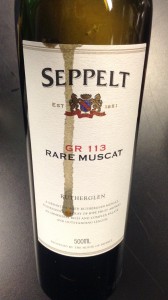 Seven HELLS this was delicious. I'm not even going to go with the vague "bodily fluids" description here like I did with that unctuous Pedro Ximénez. Where the PX was sort of verging on the "very good" to "outstanding" range, this was undeniably smack-dab in the "outstanding" category.
You'd think that semen from a god of wine would be something of the d'Yquem Sauternes level of things, but the vibe of Australian stickies are the pure and liquid hedonism that they bring as opposed to the complex and almost reverie-provoking elegance of top Sauternes, the latter which you usually need to patiently age, anyways. Where Sauternes can boast stone fruit, ginger, and honey, wines like these rodomontade scenes of brown sugar, dried fruit, and raisins.
Okay – it doesn't sound hedonistic in words, but you've really got to try it before you think otherwise. On another fluid-related note, one of my friends tried a Trockenbeerenauslese at the Vancouver Wine Festival and likened the texture to semen. I'm just going to go ahead arrest this train of thought and talk about this Muscat some more.
The palate was luscious and full-bodied. The palate had a little more acid than I expected, especially for something Muscat-based. But part of the process with Rutherglen Muscats is that the grapes are allowed to dry on the vine which not only concentrates sugars but concentrates acid. And though delicious, this is one of those things I'm sure I can't have more than a couple of mini-servings. I guess that's another difference.
There is the question, of course, to what the differences are when it comes to Australian stickies and sweet Pedro Ximénez sherries, since they can appear to be quite similar. We had a small discussion in class about it but I don't remember what we had talked about, probably because this was too delicious and I chose not to care about anything else in the moment.
Producer: Seppelt
Designation: "GR 113"
Region: Australia
Sub-Region: Rutherglen, Victoria
Variety: Muscat
ABV: 17.5%
Vintage: NV
Tasted: March 5, 2014
Price: $96