Break-up wine and cheap buckets of ice cream: KWV Paarl Cape Tawny
Tasting Note:
Eyes: clear, med- tawny, legs
Nose: clean, med+ intensity, developing, spice, brown sugar, dried red fruit, caramel
Mouth: sweet, med+ body, med fortification, low acid, med length, med+ intensity, candied citrus, brown sugar, caramel, hint red fruit, nutty undertones
All in all: Good quality: harmonized and balanced components along with rather intense but simple flavours accompany this great-valued fortified wine. Could use more complexity and length. Drink now, not suitable for ageing.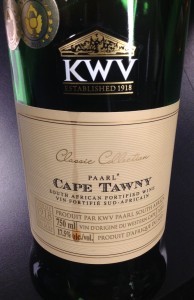 This wine was more of a quick afterthought and I'm sad that we didn't really talk about it some more, though it was probably overshadowed by the wines surrounding it. It was the sixth wine in our flight out of seven: the first four costed a bit more and were superlative in their respective categories, and the fifth wine was both shitty and cheap but still served to show something.
This wine was somewhere in the middle of the spectrum and served to show that there are some good things that exist in this world – and in this case, a fortified wine that isn't shitty but also doesn't make the wallet cry. Sort of like the bucket of supermarket-brand ice cream which is cheap and delicious but mostly just for the first couple of scoops: I suppose that makes this a wine that you drink while watching rom coms after a break-up.
In addition, it's easy for the wine geeks to turn their noses up at wines with borrowed terms of designation, especially due to the horror stories of Californian "Burgundy" or Californian "Chablis" that come to mind (or "gluten-free" or "scent-free" or "porn") – but this wine was selected to be shown in class to show that sometimes there can be some quality in that respect.
I don't remember much about the wine. I do remember liking it more than I thought I would, and I noted that it was a bit aggressive in its obvious primary fruit. But there is balance and intensity where there isn't too much complexity or length. And a pretty cool price to boot.
Producer: KWV
Designation: Paarl Cape Tawny
Region: South Africa
Sub-Region: Western Cape WO
Variety: Tinta Barroca, Cinsault, Souzao
ABV: 17.5%
Vintage: NV
Tasted: March 5, 2014
Price: $13