#no: Brights "74" Apera
Tasting Note:
Eyes: clear, med- blood orange?, legs
Nose: clean?, low intensity, youthful?, nothing – faint scents of nuts gently macerated in rubbing alcohol if you really tried
Mouth: medium-sweet, alcohol, slightly nutty, cough syrup, med body, Halls, low acid, med length, med+ flavour intensity
All in all: No.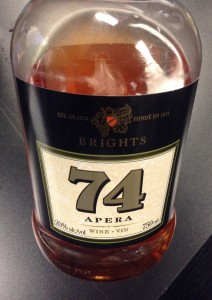 This was repulsive and we tasted it for educational purposes. The classmate to my left thought it was hilarious that I was writing a tasting note because it was that horrid, and I really thought it wouldn't be.
The wine was a strange colour between pink and pale brown. The nose seemed to have faint ghostly aromas of the slightly nutty and alcoholic aftermath that were probably low-quality grapes destined for high-yielding "sherry" production. The palate was equally as questionable with a medium-sweet sugar level, non-existent acid, and slightly more intense flavours. But from the nut water on the nose, we move on to this cocktail of stale nuts and cough syrup topped off with a couple of Halls lozenges.
It's easy to hate something like this, it really is. But it's an example of a product that's cheap and easier to access for those who get drunk for the sake of it: the entire class inevitably and almost necessarily had a short political discussion, and then in slow astonishment, I realized that such a cheap and shitty product automatically destined as garbage in the wine world holds quasi-importance in other aspects. It's weird. It tastes like sad.
If I have my facts correctly – starting earlier this year (January 1, 2014), Canada (and perhaps other regions?) is no longer allowed to use the word "Sherry" (or "Port", I think, for that matter) to sell products made in that style but aren't from the protected EU regions. So the word they're using to describe these products now is "apera" (which I think we apparently borrowed from the Australians). Hence the name.
You probably shouldn't buy this.
Producer: Brights
Designation: "74"; Apera
Region: Canada
Sub-Region: N/A
Variety: N/A
ABV: 20%
Vintage: NV
Tasted: March 5, 2014
Price: $6