"Sing, Sing, Sing" – Benny Goodman: Henriques and Henriques 10 Year Old Sercial Madeira
Tasting Note:
Eyes: clear, med amber, legs
Nose: clean, med+ intensity, fully developed, spice, caramel, sultana raisin, nut, ripe citrus, almond skin, mineral, cashew, fig, dates
Mouth: dry, med+ body, high fortification, high acid, med+ length, med+ flavour intensity, almonds, hint brine, caramel, spice, sultana raisin, overripe citrus, cashew
All in all: Very good quality: this drier style of Madeira is intense and well-balanced. Though the fortified wine is quite complex, there is a slight lack of concentration on the finish.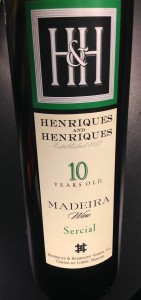 Oh Madeira. If these wines weren't popular to begin with, then the lesser-known fortified wine in its drier version is even more of a sad and ignored little outlier. Madeira made from Sercial definitely tends to be on the drier side of the spectrum – (my way of remember this is sort of associating "SERcial" with "SERious") but even so, a significant chunk of the class thought this was off-dry. Perhaps a whisper of sweetness  due to the alcohol content.
Fully developed nose of spice, caramel, nuts, and a marked ripe citrus character – almost a marmalade and citrus peel sort of song. A similar palate, with just the slightest itty bit of salted almond.
I can't help but compare dry Madeira to Sherry, since they're essentially cousins on some level. This was definitely brighter than many if not all Sherries, and definitely none of the signature acetaldehyde characteristics – instead, there was more of a typical cooked citrus and a little more dried fruit. And no one really expects the acid out of Madeira, because such a wine always gives an impression of ancientness, and we subsequently associate that age with lower acid. It's sort of like the older man with a young heart, the sepia picture of a boy from a century prior, or a peppy big band number from the 30s.
Producer: Henriques and Henriques
Designation: N/A
Region: Portugal
Sub-Region: Madeira
Variety: Sercial
ABV: 20%
Vintage: NV
Tasted: March 5, 2014
Price: $53