"Home" – Edward Sharpe and the Magnetic Zeros: Lustau "Don Nuño" Solera Reserva Dry Oloroso
Tasting Note:
Eyes: clear, med+ amber, legs
Nose: clean, med+ intensity, fully developed, grilled almonds, burnt almonds, sweet spice, caramel, mineral, baked dough, pastry
Mouth: dry, full-bodied, high fortification, med acid, pronounced intensity, grilled nuts, dough, pastry, fleshiness, minerality, long finish, almond, brown sugar, salted caramel
All in all: Outstanding quality: this Oloroso sherry has a pronounced savoury complexity that reigns over the palate with a nutty sceptre. The wine also isn't without awesome concentration and length. Drink now, not suitable for ageing.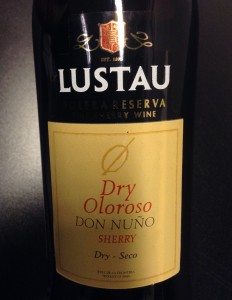 [Tasted during WSET Diploma class – Section 2 – Week 7]
I don't know why some nutty sherries seem to evoke nostalgia to me. Perhaps its the intentionally oxidized and hence "aged" sort of character, or perhaps its the fact that these types of wines are the stereotypical grandma-standard of beverages. Who knows. Regardless, this inspired the obvious Edward Sharpe song pairing, which was introduced to me during some year in university and was subsequently blasted picturesquely during a spring break road trip down to the United States. Which was rendered partially useless, anyways, because none of us were really legal to drink. Nor would half the group even do so even if allowed. Ugh. I have such an odd hobby.
But we took the roadtrip seating charts seriously, and we took a couple of hours in the library to plan out seven different combinations to seat the seven of us in the van, complete with the debated topic on who chose the ambient music. Good times. Nearby students in the library tried to make suggestions.
Anyways, Oloroso sherry is essentially a wine destined to be on the the more nutty and dark end of the sherry spectrum, compared to the fresh and briny flor-dominated end that is Fino.
This wine was outstanding. It's the amazing example of a wine that evinces flavours of delectable nutty caramel pastries without the sugar. It's an interesting situation. The wine also has an intense savoury fleshiness that expresses itself when it leaves the palate, leaving behind a fervid sherry footprint of wonder. You should definitely meander a try of this at a mere (…) $26 for a half bottle. But this really is like liquid sepia photographs, as shitty as it feels to say.
Producer: Lustau
Designation: "Don Nuño"
Region: Spain
Sub-Region: Jerez
Variety: Palomino
ABV: 20%
Vintage: NV
Tasted: February 19, 2014
Price: $26 (375mL)