The good ending to that romantic comedy film: Ramos Pinto "RP20" Quinta do Bom Retiro 20 Year Old Tawny Port
Tasting Note:
Eyes: clear, med tawny, legs
Nose: clean, med+ intensity, fully developed, wood, brown sugar, prune, caramelized, dried fruit, citrus rind, caramel, roasted nuts
Mouth: sweet, med+ body, med- acid, high fortification, med+ intensity, long finish, cola, hint dried fruit, nuts, soy, citrus, dates, toffee, caramel
All in all: Very good (to outstanding) quality: this tawny port has a concentrated and complex flavour profile featuring roasted nuts, citrus rind, and hints of caramelized fruit. The length is long, and the wine has a near-perfect balance. Drink now, not suitable for ageing.
Identity Guess: Premium 20 Year Old Tawny Port.
Is really: Premium 20 Year Old Tawny Port.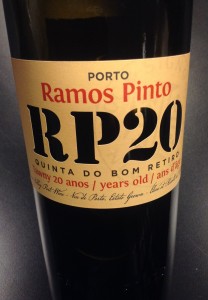 [Tasted during WSET Diploma class – Section 2 – Week 6]
This was definitely the wine in the flight that had the best ratio of wine quality to some sort of drink-now aspect, all while retaining some level of freshness. And yummy – quite obviously on the tawny side of the port spectrum, mainly showcasing oxidative characteristics with mere hints to any sort of fruit.
Lucky guess on the identity. The colour was reddish but not enough for me to guess a 10-year-old, though that just leaves my imagination to wonder what a 30- or 40-year-old tawny port reveals, since this was already non-fruity and tertiary-ish to begin with. Hmm.
Quite complex, though my port senses are quite evidently primitive since I wasn't exactly sure where to place quality at first. Discussions led to its "very good" quality realization (even up to outstanding), and I mentally noted that I really need to taste more of this stuff. Picking up complex character is a little easier for sparkling wines, but for some reason the fortified equivalent is much more difficult for me. Or perhaps it's the non-guzzling quality that leads me to not buy these wines every week, instead going for the sparkling and watching guilty pleasure reality TV shows on the "weekends". Which, according to some dumb infographic, means I'm both unintelligent and inevitably going to end up poor. Oh well!
Or maybe you can do that with port – all you need are proper complex ports like these, complete with desserts and cheese to pair with, a pillow in which to sob, sweatpants (or a onesie), and some sappy rom com(s). And pizza. But that's before the port and maybe throw in some cheap red wine in the mix.
You can tell I'm obviously stoked for Valentine's Day. I'm pathetically (and courageously!) leading a Valentine's Day-themed wine tasting, in slight constant fear that no one will show up. More wine for us, I suppose?
Producer: Ramos Pinto
Designation: "RP20"; Quinta do Bom Retiro; Tawny
Region: Portugal
Sub-Region: Douro
Variety: Blend
ABV: 20%
Vintage: NV
Tasted: February 12, 2014
Price: $68