Liquid Hallmark Valentine's Day Card: NV Sandeman Ruby Port
Tasting Note:
Eyes: clear, med+ purple, legs
Nose: clean, med+ intensity, youthful, earth, wood, (dried) black fruit, black cherry, blackberry, prune
Mouth: sweet, med+ body, med tannin, high fortification, med flavour intensity, med- acid, earth, wood, dried black fruit, blackberry, black cherry, spice, med length
All in all: Good quality: though balanced and clean, the basic ruby port seems basic to moderately complex with an average length, serving to be a ready-to-drink ruby-style port. Drink now, not suitable for ageing.
Identity Guess: Mid-priced Late Bottled Vintage Port.
Is really: Mid-priced NV Ruby Port.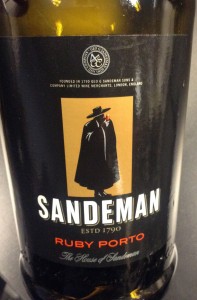 [Tasted during WSET Diploma class – Section 2 – Week 6]
This wine was chosen by the instructor to contrast to the previous wine in the flight, which was a vintage port. Basic ruby ports like this one are basically chosen to mimic the fruity character of a young vintage port, but having a drink-now sort of sensibility.
The idea is great, and basic ruby commands a fair amount of the port market, but this was sort of like the last wine but much less intense. Much much much much much much less, to the point where they're only similar in theory and they're actually not that close together in practice. The wine didn't have quite the extraction, definition, or concentration to it, almost giving a faux-aged character with a bit of dried fruit, prune, and small amounts of sweet spice. But that was sort of it, and there just wasn't much complexity.
That being said, this wasn't bad – and as I've said, basic ruby ports like these make up a majority of the port that's consumed on a global basis, and at least port is being consumed for that matter. I don't think Sherry or Madeira have that going for them, sadly.
It's like Valentine's Day. It's the Hallmark holiday that everybody loves to hate, but I suppose people are at least making efforts to spread love no matter how faux it sometimes ends up being.
Producer: Sandeman
Designation: Ruby
Region: Portugal
Sub-Region: Douro
Variety: Blend
ABV: 19.5%
Vintage: NV
Tasted: February 12, 2014
Price: $21.49