Your first serious relationship: 1995 Niepoort Colheita Port
Tasting Note:
Eyes: clear, med tawny, legs
Nose: clean, med+ intensity, fully developed, roasted nuts, caramel, mushroom, earth, prune, hazelnut
Mouth: sweet, med+ body, med+ flavour intensity, high fortification, med+ acid, med+ length, roasted nuts, mushroom, hazelnut, prune, spice, med- tannin
All in all: Very good quality: the intense and complex wine exudes flavours of roasted nuts, earth, and caramel with a relatively long finish. The wine is structured and balanced though there is a hint of bitterness on the finish. Drink now, not suitable for ageing.
Identity Guess: Premium Tawny-style Port.
Is really: Premium Colheita Port, vintaged 1995.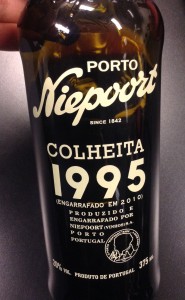 [Tasted during WSET Diploma class – Section 2 – Week 6]
I don't even remember what "colheita" designates besides a tawny-er style of port. So I'm going to just totter over to my notes and see what the definition is.
…
Apparently the labelling term refers to a vintage-dated tawny that has a minimum of 7 years of wood ageing, complete with a date of the bottling on the label. Cool.
The wine was quite complex, with fully developed aromas: roasted nuts, caramel, raisin. But compared to the first wine (which was the 20-year-old tawny) I felt that there was more of a mushroom, leather, and almost rancio character that evolved on the palate to reveal a fleshy savouriness. And so I thought this was simply a tawny that had more age – which was peculiar – considering the deeper colour than the first. And so I was confused.
The wine was yummy. I suppose the style of wine serves to exude a semi-aged tawny sort of character while displaying characteristics of a specific vintage, though it makes me wonder why grapes from this particular year weren't either used in a tawny blend or otherwise. It's possible that 1995 wasn't a declared port year (I don't know this off-hand) and therefore it was some way to get the vintage on the label. Though it's hard to say. Colheita wines are apparently a rarity so I'll doubt I'll get to explore these wines from a practical standpoint.
Producer: Niepoort
Designation: Colheita
Region: Portugal
Sub-Region: Douro
Variety: Blend
ABV: 20%
Vintage: 1995
Tasted: February 12, 2014
Price: $47 (375mL)