Old love: 1991 Croft Vintage Port
Tasting Note:
Eyes: hazy, deep garnet, legs noted, some sediment
Nose: clean, med+ intensity, fully developed, baked fruit, stewed fruit, soy, menthol, hint pyrazine, cassis, blackberry, herbal, sage, cola, oxidative, coffee, prune, chocolate
Mouth: sweet, med+ body, med+ acid, high fortification, med- fine tannin, med+ intensity, cassis, stewed dark fruit, blackberry, hint herbal, med+ length
All in all: Very good quality: the wine is intense and complex with flavours that lean towards the stewed fruit spectrum. The wine has a relatively long length, but there is something "missing" – perhaps it's the slight lack in vibrance due to the mainly stewed fruit without the intense tertiary character. Drink now, not suitable for ageing.
Identity Guess: Premium Vintage Port, 15-20 years old.
Is really: Premium Vintage Port, vintaged 1991 (23 years old).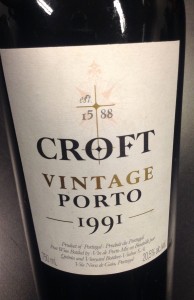 [Tasted during WSET Diploma class – Section 2 – Week 6]
This was quite interesting. I'm not entirely sure that it shares much similarity to other aged vintage ports that I've tried in the past (then again that number isn't particularly high to begin with), with main notes comprising of this baked and stewed fruit sort of note. There was also this interesting menthol-like pyrazine herbal character which I wasn't sure that I was actually smelling, combined with tertiary oxidative notes.
Non-flavour components were much more in-tune with each other compared to the next wine in the flight (which was a young 2011), with alcohol, acid, and tannin being rather present but much more woven together. Texture was much broader and less intense and piercing, while flavour components also shifted from the intense infatuated syrupy black fruit into a relaxed spread of evolved flavours. Taming the fiery components to make lovely, lovely, lovely smoked tinder.
Ugh, Tinder. Happy Valentine's Day, y'all!
This is the general recipe for aged port, though I would argue that this particular bottle was either at its peak or slightly past it. There was just something about the fruits that seemed almost too awkwardly cooked, and the wine overall seemed like it lacked some sort of vibrance and finesse. Though port is supposed to be long-lived, it seems that other tasting notes regarding its age seem to match up with mine – Richard Hemming drank this in 2010 and predicted drinkability to 2014, while Jancis Robinson tasted this in 2005 and predicted drinkability to 2018.
Still yummy, though.
Producer: Croft
Designation: Vintage
Region: Portugal
Sub-Region: Port
Variety: Blend
ABV: 20.5%
Vintage: 1991
Tasted: February 12, 2014
Price: $80