Hipster Champagne: NV Bellavista Franciacorta Cuvée Brut
Tasting Note:
Eyes: clear, med- lemon, bubbles
Nose: clean, med+ intensity, developing, ripe green apple, citrus, lemon, yeast, hint brioche, mineral, caramel, salted nuts, lees
Mouth: dry, creamy mousse, med- body, med+ acid, med alcohol, med+ flavour intensity, mineral, green apple, citrus, yeast, hints of brioche, roasted nuts, nutty and oxidized finish, hint butter, med+ length
All in all: Very good quality: impressive here is the drawn-out nutty length that I more commonly see in aged vintage traditionally-made sparklings. There is balance and a moderate amount of complexity, but there is a hint of bitterness on the finish as well. Drink now, not suitable for ageing.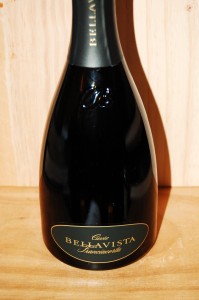 I feel dumb opening this on a Thursday night. But I convinced myself that I've earned it for doing a lot of work today. Originally I was supposed to put this into a flight with other traditionally-made sparklings (hence the small bottle), but I didn't drink at all yesterday, and I'm thirsty. This made quite a loud pop and I'm pretty sure I woke at least one person in this house at 1AM. Jesus – I'm drinking Franciacorta at 1AM. I can't decide whether or not I'm spoiled or desperate or a neat blend between the two.
Where Crémant is the poor-man's Champagne, Franciacorta and Cava are the hipsters of the European traditional sparkling family. Where Cava is the thrifty Value Village-esque sparkling wine, Franciacorta is the pricier golden find from the lesser known thrift shops or trendy consignment store. Sorta.
Rarely do you see Franciacorta in this market, and rarely do you find anyone that knows of it ("you probably haven't heard of it" –> hipster Champagne?). One time a customer came in asking for Franciacorta – perhaps simply wanting to one-up me on some knowledge – but then we ended up having a sweet conversation on wine. It was great.
I left the wine outside instead of the fridge because I thought it would be warmer, but the wine is just as cold as the fridge in this current icy weather. The nose is lovely with ripe green apples, opening up to some autolytic characteristics along with some roasted and slightly salted nut tones, which is impressive for a non-vintage cuvée (or I haven't been drinking the right ones). Balance is good, and the slightly autolytic green apple notes mirror the nose to the palate, ending with a beautifully roasted nut ending which has just a hint of bitterness.
The wine seems elegant and light-footed with hints to its aged-tasting nuttiness. I'm honestly not sure how I would be able to distinguish this from its mainstream Champagne counterpart, so I guess I'll have to do that comparison test after all.
Producer: Bellavista
Designation: Cuvée Brut
Region: Italy
Sub-Region: Franciacorta, Lombardy
Variety: Chardonnay (80%), Pinot Noir and Pinot Blanc (20%)
ABV: 12.5%
Vintage: NV
Tasted: February 7, 2014
Price: $35 (375mL)