Erin O'Connor: 2007 Bellavista Franciacorta Gran Cuvée
Tasting Note:
Eyes: clear, pale gold, bubbles
Nose: clean, med intensity, youthful, mineral, rubber, apple, smoke, pear, hint of stone fruit, peach pith, lees
Mouth: dry, creamy mousse, med body, med+ acid, med+ flavour intensity, citrus, lemon, green fruit, green apple, med+ length, med alcohol, savoury, lees
All in all: Very good quality: expressive savoury flavours find themselves on the palate, leaving a long length. The nose isn't as complex, but there are still some earthy components there. Drink now; not suitable for ageing.
Identity Guess: High-priced Non-Vintage Cava from Spain.
Is really: Premium Vintage (2007) Franciacorta from Italy.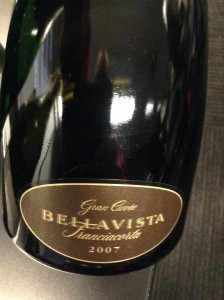 [Tasted during WSET Diploma class – Section 2 – Week 5]
Franciacorta! I only remember having one in the past – Ca' del Bosco (Cuvée Prestige), which is, I believe, the most well-known Franciacorta producer along with Bellavista. Unfortunately I don't remember the nuances of the Ca' del Bosco besides its toasty zippy goodness, mostly due to the fact that my coworkers and I were liver-deep in wine corkage, thanks to the event that was my birthday. It was a good night and I'm pretty sure I went to the Biltmore afterwards followed by a drunken feast at Lucy's. There might have been some PBR somewhere during that night. So, for this WSET class, it was nice to try the traditional method Italian wine in a more sober environment. Heh.
The wine was quite different from the two Champagnes in the previous flight – so different that I wasn't sure what the wine was. Fruits were slightly riper and also somewhat stretched into the stone fruit camp, though subtle. There was an interesting mineral aspect on the nose, which was slightly earthy and smoky, but almost not quite – the classmate who read out her notes detected this as a lees sort of aroma, which made sense due to the fleshy and savoury palate. Notable is the acid, which is well-integrated and hidden behind concentration. I swore this was only medium acid, but apparently I'm also an incorrect doofus.
I keep making dumb analogies to Naomi Campbell and Champagne, so let's just call this one Erin O'Connor because it's a much more quirky and understated traditionally-made sparkling. You can tell that I probably don't do the most useful things in my free time.
I promised myself I could open a half-bottle of Franciacorta if I did enough work today. So I'm excited to do a bit more investigation.
Producer: Bellavista
Designation: Gran Cuvée
Region: Italy
Sub-Region: Franciacorta, Lombardy
Variety: Chardonnay (mostly), Pinot Noir
ABV: 12.5%
Vintage: 2007
Tasted: February 5, 2014
Price: $65