Haim – "Falling": NV Lini 910 "Labrusca" Lambrusco
Tasting Note:
Eyes: clear, deep purple, hint of bubbles
Nose: clean, youthful, pronounced intensity, hint of dark chocolate, dark berry jam, blueberries, blackberries, earth, bramble, cassis, grapey, apple, hint herbal
Mouth: dry, med body, med+ acid, delicate mousse, med alcohol, low soft tannin, med length, med+ flavour intensity, bramble, dark berry jam, apple, blueberries, blackberries, blackcurrant
All in all: Good quality: the brightly acidic wine provides a balance to the intense dark berry flavours which are simple and only have a medium length on the palate. Drink now; not suitable for ageing.
Identity Guess: Mid-priced Non-Vintage Sparkling Shiraz from Australia.
Is really: Mid-priced Non-Vintage Lambrusco from Italy.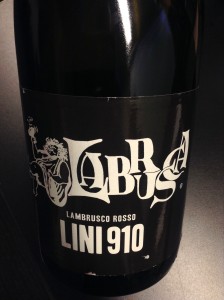 [Tasted during WSET Diploma class – Section 2 – Week 2]
I'm not super familiar with the sparkling red that is Lambrusco. I remember having an entire bottle one holiday (Thanksgiving 2011? 2012? Christmas?). I retried the same bottle during a Youtube proposal video marathon and hair-dyeing session (not mine, obviously) with a close friend one night, only to realize I drank an entire bottle of corked wine on that one previous holiday. I thought the style of that particular bottle was simply lower in fruit and weirdly high and imbalanced on the "earth" aspect, but I missed all the glittery raspberry jam goodness that pairs nicely with weird yet charming dance mobs. And hair dye.
I'm sure I would've finished the bottle had I known, anyways. I'm sure beer was also involved, but it's hard to remember these things – I vaguely remember spilling a basket of mail and coins down a flight of stairs. I'm clumsy when I'm sober, so you can imagine the shit that stirs when I ruin the chemical equilibrium in my bloodstream.
This particular Lambrusco had deep and dark berry jam notes, with hints of dark chocolate, earth, cassis, and weirdly enough – apple (reminding me of some Marechal Foch I've had. Maybe malic acid notes?). The palate was similar, with a surprising amount of acid to balance the ripe dark fruit, along with a delicate mousse. This wine is a bit of a trickster, and I was led to believe that it was heavier than it actually was. Thus I guessed sparkling Shiraz like a doofus.
I enjoy disjointedly enigmatic yet playfully non-serious wines like this. Dark tones contrast with the light-footed fizz and bright acid. Pair with Haim's "Falling", which seems just as melancholic yet upbeat, and quick yet marked.
Producer: Lini 910
Designation: "Lambrusca"
Region: Italy
Sub-Region: Emilia-Romagna
Variety: Lambrusco
ABV: 11%
Vintage: NV
Tasted: January 15, 2014
Price: $20