Monday afternoon in a bottle: 2012 Artero Macabeo Verdejo
Tasting Note:
Eyes: clear, med- lemon, legs
Nose: clean, med- intensity, youthful, mineral, pear, citrus, hint orange, stone fruit, peach, white flowers, hint herbal
Mouth: dry, med body, med- acid, med alcohol, med flavour intensity, med length, mineral, pear, citrus, stone fruit, floral
All in all: Good quality: while the wine lacks in complexity and persistence, there is a balance and moderate intensity on the palate.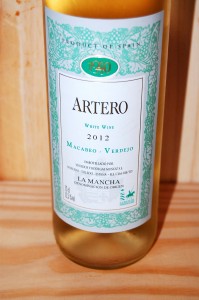 This wine serves as a symbol of my half-assed sort of not really "New Year's resolution" to try all the cheaper value wines in the store. It was also my house "emergency wine", just in case I decided I wanted to drink today (which evidently I did), and it also served as my reward wine – so I had a goal of studying a certain amount of things (Which happened to be Champagne) before I was allowed to open the wine. I didn't end up studying as much as I wanted, but I convinced myself that cheap studying meant cheap wine. So there.
New vintage. I swear I've seen non-vintaged versions of this same bottle, but either way, I've also only seen pure Macabeo versions of this wine. This vintage has the addition of Verdejo, which apparently adds to its juiciness – but I'm wondering if the subpar vintage of Europe's 2012 had anything to do with the decision. You'd think I'd have answers after writing an entire essay about such things.
There's a whole weird smatter of fruits on the nose, but at the same time, the intensity isn't very loud or defining. There is that subtle pomaceous fruit combined with that of stone fruits, but everything is generally mineral-driven. Same story on the palate, which is slightly more expressive. The lower tartaric acid speaks to the warmer climate of La Mancha, and all I can think of is how much I miss the sun. But the lowerish acid and simplicity does giving it a relaxing and nonchalant feel. It sort of embodies Monday afternoon, even though it's not the pick-me-up that you might need on such a crappy day of the week. Though I secretly love Mondays.
There is a bit of super subtle herbal brush on the nose, but I think that's because I accidentally snorted a bit of dried marjoram flakes earlier in the day.
Good value. It's a good everyday bottle that's a nice alternative to the grassier and guava-er Domaine de Grachies that I typically buy (Côtes de Gascogne), and I've taken notes like 3 times on that same bottle, but I've gotten too inebriated to type anything up about that wine before it's too late and I forget. But it's a Monday this time, so we're all good. Moral of the story: drink more on Monday nights?
Producer: Artero
Designation: N/A
Region: Spain
Sub-Region: La Mancha
Variety: Macabeo, Verdejo
ABV: 12.5%
Vintage: 2012
Tasted: January 13, 2014
Price: $14