Oh Land – "White Nights" (Big Ugly Yellow Couch): 2009 Blue Mountain Brut Rosé]
Tasting Note:
Eyes: clear, pale orange, bubbles
Nose: clean, developing, med- intensity, biscuity, bread, yeast, delicate red fruit, hint of apple, strawberry
Mouth: dry, med bodied, med+ acid, med alcohol, med finish, med+ flavour intensity, mineral, savoury red fruit, some toast, biscuit, tart strawberry, cranberry, citrus, fine and mouth-filling mousse
All in all: Good (to very good) quality: the wine rules with finesse, elegance, and balance, though some intensity and complexity are further in the background. Drink now, not suitable for ageing.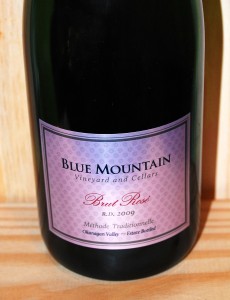 I did it. I promised myself I wouldn't spend more money on alcohol, let alone on a bottle that's more than 30 dollars on the shelf for a lonely Friday night, but I really couldn't help buying the new and hip bottle that recently made store status. Plus, I talked myself into how it can only help my wine education, since the upcoming WSET unit is sparkling (+ fortified)-centric, and sparkling (rosés) are so very holiday. Yesterday night I also hit this really weird and awkward negative mood (probably because of the snow?) and I decided I need a pick-me-up. A can of 2-dollar cider would have done the trick as well, but this way is much more fun.
Apparently – and please correct me if I'm wrong – this is the first vintage that the sparkling rosé from Blue Mountain has ever hit the retail shelves because restaurants received all the allocations. So yay, I suppose.
The wine's strengths lie in the finesse, elegance, and balance.  Though there is traditional-method complexity there, it's something you really have to search for on the nose. The palate is a little more intense, and there is a round expression of mineral, tart red fruit, and some savoury biscuity flavours. Balance and elegance are a bit tougher with sparkling wines. There's something about the interaction of bubbles, acidity, and intensity that are an unexpected challenge, and we don't realize how important they are until a wine badly misses the mark on one of the criteria. Though this wine's aromas shy away, the structure is rounded out by the dosage and savoury character on the palate. I can understand how some people might see this wine as relatively simple, but at the same time, balance and finesse are often unappreciated.
The understated yet expressive and quirky sparkle of the wine reminds me of Oh Land's "White Nights". But not the regular version – the relaxed Big Ugly Yellow Couch rendition.
Comparatively, the price point is justified. But at face value, I'd ideally pay a couple bucks less.
Producer: Blue Mountain
Designation: Brut Rosé
Region: Canada
Sub-Region: Okanagan, British Columbia
Variety: Pinot Noir (84%), Chardonnay (16%)
ABV: 12%
Vintage: 2009
Tasted: December 20, 2013
Price: $40