Mary-Kate and Ashley Olsen: 2012 Château d'Aydie "Odé d'Aydie" Blanc Sec
Tasting Note:
Eyes: clear, pale lemon, legs
Nose: clean, med+ intensity, youthful, mineral, apricots, vanilla, spice, citrus, floral, cardamom, hint of pineapple, honeydew, nuttiness, primarily stone fruit with some tropical
Mouth: dry, med+ body, med acid, med+ flavour intensity, high alcohol, mineral, peach, apricot, apricot pith, lemon zest, honeydew, floral, med+ length, savoury finish, savoury spice, gummy bears
All in all: Good quality: though the strong minerality almost overtakes the fruit on the palate, there is a fresh perkiness despite the expected fuller body. The alcohol is slightly hot but the character is intense. Drink now; not suitable for ageing.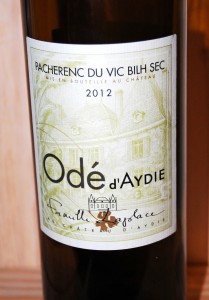 Never have I ever had the pure expressions of the Manseng twins in a bottle of wine, mostly because you can't find these guys in this market. I've dabbled with a bit of Gros Manseng in the past, but the underdog wines of Southwest France intrigue me. They're understated hipster twin grapes. Hello, Mary-Kate and Ashley!
2012 went down in history for the setting of catastrophically low (yet not necessarily low quality) yields in Europe, resulting in drastically lower exports in some areas, and lower quality in regions where viticulturists and winemakers played the parts of absent parents. So buying a pricier bottle of wine branded with a scarlet letter was already a risk, but curiosity made the cat drunk. So here we are, and I'm so glad you can't see all the typos, spilled wine, and teardrops from back-to-back proposal videos and Project Runway.
Both grapes in the mix are intrinsically intensely flavoured. But Gros Manseng is the much more vigorous grape of the two (let's call this one Ashley), while Petit Manseng has smaller berries at lower yields, resulting in slightly intenser flavours of the latter grape (let's call this one Mary-Kate). Both grapes need care in the winery due to thick skins (hence higher levels of polyphenols and tannins), but both grapes naturally contain a high amount of acid, easily enabling winemakers to let them ripen on the vine. This can lead to better levels of phenolic ripeness and the possible option of late-harvest sweet treats. These grapes are surprisingly easier growers, which means that my stupid Olsen twin analogy isn't completely nothing. Yay! Full House, y'all.
I'm a bit of a basket case when it comes to detecting oak (and TCA for that matter), but this time I've guessed correctly (!), with the wine having seen 6 months of fermentation and age in oak. The nose is quite intriguing with a spicy apricot sort of deal, along with a hint of vague melon. The palate shows similar flavours, but the fruit is overtaken by a wave of refreshing minerality, leaving behind a sand bed of savoury spice. The wine doesn't hide its alcohol content very well, but it retains some level of finesse and freshness despite the expected fullness.
The palate has acid, but it's not the mouth-filling tartaric acid: a tart front-filling malic acid character adds a tangy sour candy sort of feel. The direct stone fruit character, minerality, and headiness are reminiscent of Alsatian Pinot Gris, but the bit of oak and acidity are different enough to leave a different sort of footprint.
Now I'm deciding whether or not I should invest more tears onto online videos or sleep like a normal person. But I think I've opened that window after writing about wine at 3AM. On a Monday.
Producer: Château d'Aydie
Designation: "Odé d'Aydie" Blanc Sec
Region: France
Sub-Region: Pacherenc du Vic Bilh Sec AOP
Variety: Gros Manseng (40%), Petit Manseng (60%)
ABV: 14.5%
Vintage: 2012
Tasted: Dec 16, 2013
Price: $30