A ray of sunshine on a cold autumn morning: 2011 d'Arenberg "The Stump Jump" White
Tasting Note:
Eyes: clear, pale lemon, legs
Nose: clean, youthful, med intensity, ripe citrus, minerality, peach pith, honey, melon, hint stony bitterness
Mouth: dry, med body, med+ acid, med+ intensity, med alcohol, med length, citrus, lemon, peach pith, just-ripe peach, savoury, touch of creaminess, honey, ripe citrus, minerality, floral
All in all: Good quality: a balance of structure frames direct fruit flavours and a present minerality, but there could be more complexity. Drink now; not suitable for ageing.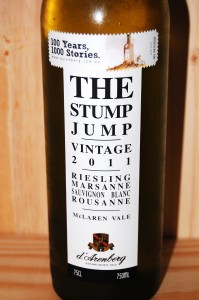 It is three weeks until my WSET Unit 1 coursework assignment is due and two weeks until my WSET Unit 4 spirits exam. And here I am reviewing wine, because number 1: I am crazy, and number 2: I miss wine. I miss wine. I won't in a couple months, where I'll probably be missing spirits.
The Stump Jump is d'Arenberg's entry-level white blend. I've heard wonderful things about the red blend equivalent (a Grenache-Shiraz-Mourvèdre) and I'm a huge fan of their other wines, so I decided to give this one a go. This year's blend is 72% Riesling, 11% Marsanne, 9% Sauvignon Blanc, and 8% Roussanne. This is drastically different from the previous year's (2010) vintage, which was 28% Riesling, 27% Sauvignon Blanc, 25% Marsanne, and 20% Roussanne.
According to a previous label, it looks like the grapes from the previous vintage also included grapes from Adelaide Hills along with McLaren Vale; this vintage solely has grapes from the latter. I find this interesting – perhaps the Stump Jump is made for a rather good quality blend without trying to be consistent in terms of their flavour profile. Perhaps the non-Riesling grapes didn't survive, or perhaps they're trying something different. Maybe they knew I would obsess and did it on purpose to laugh at me. Who knows!
The wine definitely speaks to its Riesling-dominance in its dry Australian form. Direct citrus notes support subtle pithy peach notes, and a bit of floral character and a balanced minerality add some complexity. Before knowing the blend proportions, I swear I had caught just a touch of a greenness from Sauvignon Blanc – but maybe that's just the power of suggestion.
The wine is not overtly complex, but I don't think that's what wine aims to be. The subtle complexity that is there, though, reminds me of a ray of sunshine on a cold autumn morning – not super loud or intense, but subtle and sort of pretty.
As the wine warms up it's becoming louder on the palate without giving way to a lower acidity. I've definitely been drinking wine too cold, too often.
Producer: d'Arenberg
Designation: "The Stump Jump"
Region: Australia
Sub-Region: McLaren Vale, South Australia
Variety: 72% Riesling, 11% Marsanne, 9% Sauvignon Blanc, 8% Roussanne
ABV: 12.2%
Vintage: 2011
Tasted: Oct 23, 2013
Price: $18