A 1950s pin-up girl, or Mr. Fireman September: 2012 Tahbilk Viognier
Tasting Note:
Eyes: clear, med- lemon, legs, (med viscosity)
Nose: clean, med+ intensity, youthful, mineral, ripe citrus, nectarine, stone fruit, just ripe peach, apricot, yogurt, floral, spice, cardamom, tea, hint honey
Mouth: dry, med+ body, med intensity, med+ acidity, med alcohol, med+ length, savoury, ripe citrus, lemon, peach, apricot, mineral, (med complexity)
All in all: Very good quality: the leaner New World style of Viognier shows finesse, elegance, and persistence along with a slight lack in complexity. Drink now; not suitable for ageing.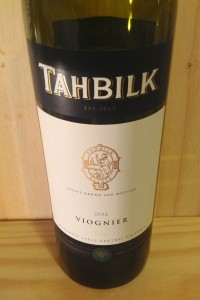 Best served slightly chilled if not at room temperature. An example of a wine that shies away while having spent time in the fridge, but reveals itself when in its vulnerable nakedness with no lack of temperature to hide behind. Not all (good quality) Viogniers take after the Tahbilk and instead are made flashy and fuller-bodied at any time, but a well-balanced Viognier can arguably have a warmer ideal point without detriment to acid, alcohol, or intensity levels.
This Viognier is obviously made with conscious restrain. The seductive stone fruit and spicy notes of New World Viognier are framed like a flamboyant yet teasing 1950s pin-up girl or a calendar full of half-naked men who leave lots to the imagination, unlike a shitty strip show or uninspiring porn. I'd wish for more complexity in this Viognier. But in the end, do you really flip to Mr. September's (fireman Mike or whatever) empty and flexed smoulder for complexity? Do you really? Balance and subtlety earn the tips here, folks, so tuck your dolla billz into this bottle's waistband. Many wines – among other things – are meant to be seductive, teasing, and some sort of mouth-watering all at the same time. The acidity, I mean.
A quick Google glance tells me that the 2012 Australian vintage was a good one. I can see why – and it's not well-known that Viognier can be a tricky devil in the vineyard, but it is. Thus, the good shows don't come cheap. Can't say the same for fireman Mike.
And I talk like I'm a Viognier expert or otherwise. I'm neither, I swear!
Producer: Tahbilk
Designation: N/A
Region: Australia
Sub-Region: Victoria
Variety: Viognier
ABV: 13%
Vintage: 2012
Tasted: September 14, 2013
Price: $27