A fantastic half-bottle of partly cloudy bliss.JPG skies: 2010 Albert Mann Pinot Gris
Tasting Note:
Eyes: clear, med- lemon, legs, (med+ viscosity)
Nose: clean, med intensity, youthful, mineral, spice, ginger, stone fruit, dried stone fruit, citrus, nectarine, citrus rind, musk, green fruit, honey, floral, hint tropical, hint botrytis???
Mouth: off-dry, med+ to full body, pronounced intensity, med acid, med+ alcohol, long finish, stone fruit, spice, pear, citrus, citrus rind, honey, slightly oily texture with balanced acid, slight phenolic bitterness to finish, hint tropical
All in all: Very good quality: the wine has a characterfully ripe palate and balanced components (despite high alcohol) with a long finish. Can drink now, but has potential for short term ageing.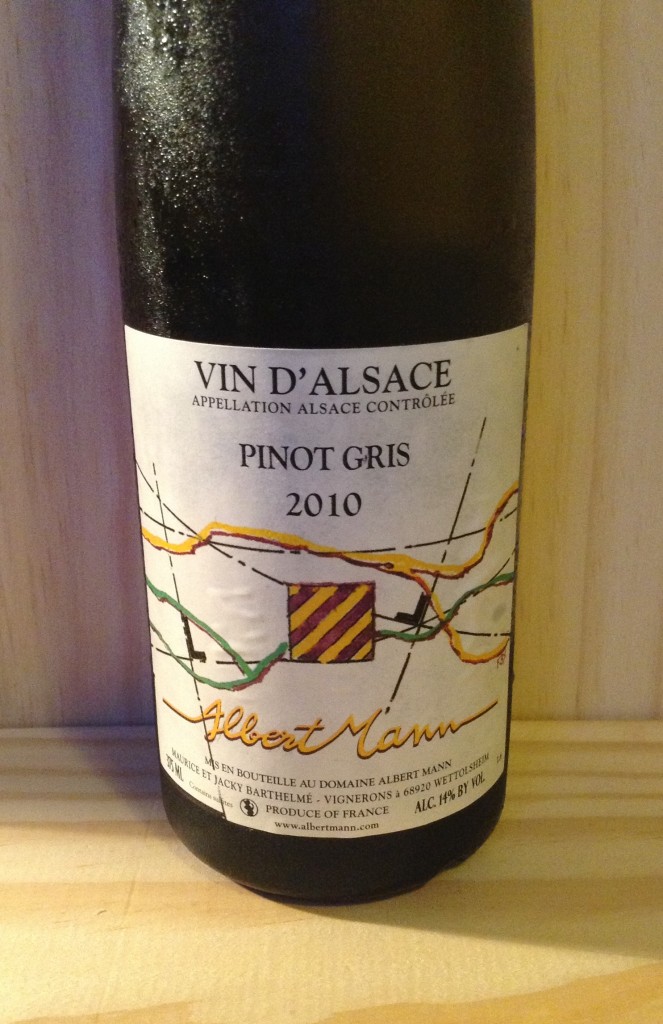 I love Alsace, or at least the idea of it. And not just for wine – the idea of a cool climate with constant sun sounds about like my dream weather. Combine that with an area with a beautiful region plus an interesting history, and you have me sold. I'm going to halt my shitty speech of romance here partly because I want to sip more of this wine and partly because I should do some studying before it goes all to my head.
But yes – the climactic uniqueness of Alsace, partly due to the Vosges mountains, results in constant sun, lower rainfall, and a cool climate. Grapes are therefore relatively more reliably ripe here – and despite the light-bodied reputation of certain grapes, fuller-bodied yet equally-as-bright versions of Riesling can be found here. Along with the minimum treatment of wine and the decision to hold back malolactic fermentation in most Alsatian wines, I would argue that most wine here is about distinct grape character and fruit purity. (What kills me is that Pinot Blanc is often given the shaft and is blended with Auxerrois, still being labelled only by the former, despite great examples that it can make.)
I am not a big Pinot Gris/Grigio fan, partly because it usually doesn't excite me, and partly because the fans who overrate the grape remind me of fans who overrate Justin Bieber. But unlike Justin Bieber, this is an example of a wine whose grapes have had time to mature on the vine, resulting in phenolic ripeness and high levels of sugar, though acid levels are slightly lower as a result. This is Pinot Gris. Pinot Grigio retains more of a lighter-bodied zip by being picked earlier, much to the detriment of the undeveloped flavours.
This is a beautiful wine. Stone and citrus fruits dominate the nose, with a noted mineral and musky character. The palate is expressive and ripe, while filling the mid-palate with honey, ripe citrus rind, and stone fruit, then ending with a very long and savoury finish.
The acid is not particularly high yet the wine has the impression of being bright and loud – so despite classic Alsatian weather, this wine isn't quite a bottle of sunshine. It's a bottle of partly cloudy skies, sort of like the default Windows XP wallpaper – a bottle of bliss.JPG. Familiar, yet bright; expressive, but not entirely flamboyant. Very good quality.
Producer: Albert Mann
Designation: N/A
Region: France
Sub-Region: Alsace AC, Alsace
Variety: Pinot Gris
ABV: 14%
Vintage: 2010
Tasted: September 9, 2013
Price: $20 (375mL)