NV Antech "Doulce et Fruitée" Blanquette Méthode Ancestrale
Tasting Note:
Eyes: clear, pale lemon, bubbles, [low viscosity]
Nose: clean, med+ intensity, youthful, ripe red apple, apple cider, ripe citrus, almond, caramel, hint of graceful oxidation, toast, dough, mineral, honey
Mouth: medium-sweet, med body, med acidity, low alcohol, soft and persistent bubbles, med+ flavour intensity, ripe red apple, almond, butterscotch, apple skin, apple strudel, hint of citrus, med finish, [med+ complexity]
All in all: Good quality: a unique and expressive character shows just enough balance with its sweetness, acidity, and effervescence. Drink now; not suitable for ageing.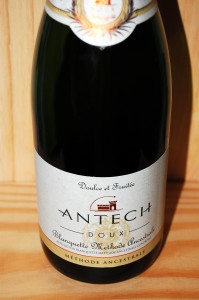 I am currently in the middle of my WSET Unit 4 (Spirits of the World) Diploma studies and am quickly going through packs of flash cards like a chain smoker goes through packs of cigarettes. As last week's quasi-quasi-quasi-quasi-bulk purchase of 400 flash cards (surprisingly) wasn't enough, I went ahead and bought 1000 today. Of course, no trip is complete without visits to other private liquor stores in the area (that I've never been to) so why not? Go for flash cards, come back with wine. A mistake? Perhaps. Yes.
A large proportion of my day was spent sitting at Starbucks and debating whether or not I should buy one or a combination of the following wines that I promised the sales clerk that I would return for after mulling it over: a 1990 Champagne (on clearance), a 1996 Barsac, a 2000 Barsac (same producer), a Blanquette Méthode Ancestrale (doux style), or a cold White Zinfandel (as much as I hate to admit: I was craving something like this. STOP JUDGING ME!). My ridiculous purchase of the Torres Jaime I Brandy last week (not to mention WSET Diploma tuition, for that matter) was enough to convince myself that I needed to chill out with the spending. I'm waiting to crack open the brandy as a celebratory Unit 2 test results excuse – but let's be real: it's WSET, and I'm probably not going to get my results for a while.
Although still not the cheapest thing, I went with the Blanquette, since I've had the dry version, and because I've never had a "doux"-designated French sparkler. Also, it's summer.
The nose is interesting: dominant with ripe and juicy red apple, in contrast to the elegant greener and crunchier apple notes of Champagne, and it doesn't veer into other tree fruit notes (say, stone fruits), which a sparkler like Moscato (d'Asti) can often do. Reminiscent of apple cider. The nose also shows hints of almond and an unmistakable presence of a toasty bready character, the latter which can disappointingly be absent from more traditionally made sparklings. The palate echoes the flavours on the nose, and almost ties in the individual elements: this tastes like apple strudel with almond flakes and hints of honey drizzle. Delicious.
Varietally correct, according to Jancis, who gives the grape variety a short but concisely sweet entry in her Wine Grapes compendium. If the Loire was hipster, then sparkling Languedoc is the stuff that the stuff has never heard of.
Structurally, the wine has acidity, but just enough to balance the medium-sweet character. The "doux" designation means that this wine has at least 50 grams of sugar per litre, so acidity is key. More zip would have been nice, but as always, the bubbles give a bit of a textural lift. Average length.
This is one of those wines that is friendly enough to please those with sweet teeth but is obscure enough to intrigue the alcohol nerds. The price tag makes me sweat a little more than I should on a hot broke-collegian summer day, but sometimes curiosity and delicious obscurity is worth it.
Oh, and royal baby. Another excuse to open this, I guess.
Producer: Antech
Designation: Doux; "Doulce et Fruitée"
Region: France
Sub-Region: Blanquette Méthode Ancestrale, Limoux AOP, Languedoc, France
Variety: Mauzac
ABV: 6.5%
Vintage: NV
Tasted: July 23, 2013
Price: $28