2012 Sula Dindori Reserve Viognier
Tasting Note:
Eyes: clear, med lemon, (med+ viscosity)
Nose: clean, pronounced intensity, youthful, tropical fruits, floral, honeysuckle, stone fruit, Froot Loops, lemon curd, white pepper, spice, apricot, hint yoghurt, peach
Mouth: dry, med+ body, med acid, med length, med flavour intensity, med+ alcohol, floral, stone fruit, tropical fruit, ripe candied citrus peel, apricot pith, canned peaches, hint of bitterness, touch of mineral, (med complexity)
All in all: Good quality: very expressive on the nose and varietally correct – arguably better than some Viogniers for the same price. Although the finish has typical Viognier phenolic bitterness, there is just enough acid to clean the palate. Drink now; not suitable for ageing.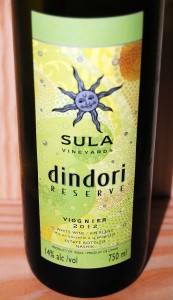 There are always those awkward products at the BC Liquor Stores that are so uniquely fucked up in some way – perhaps a weirdly shaped bottle, an unpronounceable name, things so obliquely passé (Blue Nun? lol oh please), or those lonely bottles of wine from a country that you didn't even know made wine, only to be sought out by the bored and confused or the nerdy and adventurous.
I took the advice of a classmate (also an ISG graduate) that I met during the Intro Court of Master Sommeliers course – apparently, the BCL has one Viognier from India that is fantastic value and is very varietally expressive – one which she tried during one of her ISG classes.
Coupled with the fact that I've been craving heavy yet bright and fresh wines with sort of the Alsatian Riesling or German Weissburgunder sort of feel – I decided to go for it. And I know – Viognier isn't any sort of bright and acidic grape, but I'm all for new and crazy shit. (Because while life is too short to not try an Indian Viognier, it's also too long to try the Zind Humbrecht Pinot Blanc, which is actually mostly Auxerrois (damn it, Alsace!)).
The wine shouts Viognier – sweet floral notes along with stone fruit and tropical fruit flavours yell typical for the grape variety, with a heady spiciness not veering too far from the likes of Alsatian Gewürztraminer or Muscat. And despite the voluptuous body and warming alcohol, the wine isn't as flamboyant on the palate – the intensity shows a bit of restraint. The acidity isn't fresh, but it's there, and it's enough to keep things balanced. Makes sense though – it's Viognier.
And of course, the typical slightly imbalanced phenolic bitterness that Viognier can have – common and hard to pull off. All in all, think Californian (or Australian) Viognier with a little more elegance. There is a lightness to the wine despite the viscosity – the balance isn't perfect, but it's good enough.
I must be missing something – vineyards close to the water for moderated temperatures, high altitudes, or short-lived vines – because India has a strikingly hotter climate compared to the other winemaking regions on the planet, which can equate to vines that tire themselves out without the winter to build up carbohydrate reserves. Or, an interesting amount of alcoholic photoshop to the wine. Who knows. I'm interested, but I can't find a spec sheet, or I'm too lazy to really try. Because it's 1AM on a Saturday night and all I want to do is drink wine and be as flabby as Viognier can be.
I'm sort of impressed. And satiated. I'm ready to move on to chilled Sauvignon Blanc, because damn – this humid Vancouver summer sure calls for it.
Producer: Sula Vineyards
Designation: "Dindori Reserve"
Region: India
Sub-Region: Nashik
Variety: Viognier
ABV: 14%
Vintage: 2013
Tasted: June 29, 2013
Price: $18.50