2010 Batasiolo Barbera d'Alba
Tasting Note:
Eyes: clear, pale ruby, legs
Nose: clean, med+ intensity, youthful, earth, cherry, black cherry, spice, red fruit, green or herbal component, raspberry, simple
Mouth: dry, med body, med+ acid, med flavour intensity, med- coarse tannin, med alcohol, med length, sour cherry, raspberry, earth, spice
All in all: Good quality: the wine is balanced especially with relatively higher amounts of acidity and rough tannin, but it remains a bit simple and could have a longer persistence. Drink now; not suitable for ageing.
Identity Guess: Mid-priced (Barbera [d'Alba]/Sangiovese/Nebbiolo) from Piedmont, Italy; 3 years old.
Is really: Mid-priced Barbera d'Alba from Piedmont, Italy; 3 years old.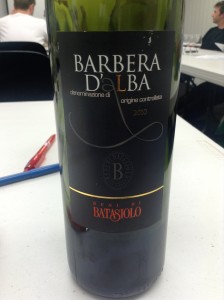 [Tasted during WSET Diploma class – Section 1 – Week 11]
I have a soft spot for Barbera – I really do. As a relatively soft and medium-bodied grape with higher acidity, it takes the spot of almost a sub-noble position – fresh like young Pinot, bodied and nosed like Merlot, finished with a strong dash of Italian:  sometimes some sour cherry notes and soft yet often astringent tannins. And yet, the grape still has a spectrum, even if a small one – the softer and friendlier Asti versions, to the darker, serious ones of the Alba – both areas in Piedmont.
The only Barbera from Asti I've ever had has set the standard for all Barbera since then, and the dried, sweeter red fruit I expect is usually replaced by darker, smokier, and sometimes clunkier fruit that I always assume is more Alba-like in character. Hence the guess.
This wine did have that "darkness" – black and sour cherries, spice, but a slight green herbal note which may have stemmed from a cooler, less ripe year for Piedmont. There was nothing overtly wrong with the wine – it was just simple and fresh. There was an interesting smoky darkness on the nose that someone thought may have stemmed from rot, but who knows?
It's not a grape that's well-known, but apparently has potential to flourish around the world due to its easy-going nature both in the vineyard and in people's mouths.
Producer: Batasiolo
Designation: N/A
Region: Italy
Sub-Region: Barbera d'Alba DOC, Piedmont
Variety: Barbera
ABV: 13%
Vintage: 2010
Tasted: June 19, 2013
Price: $18