2011 Hunter's Pinot Gris
Tasting Note:
Eyes: clear, pale lemon, legs
Nose: clean, med+ intensity, youthful, stone fruit, peach, apricot, floral, mineral, bit of spice
Mouth: dry, med body, med acid, med alcohol, med+ flavour intensity, med+ length, stone fruit, peach, apricot, floral
All in all: Good quality: a relatively long length follows good balance. Intense flavours, but a bit simple. Drink now; not suitable for ageing.
Identity Guess: Mid-priced (Riesling/Pinot Gris/Muscat/Gewurztraminer/Chenin Blanc); 2 years old.
Is really: Mid-priced Pinot Gris from Marlborough, New Zealand; 2 years old.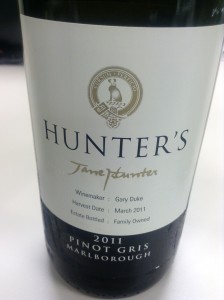 [Tasted during WSET Diploma class – Section 1 – Week 10]
Heh. This was the wine for which I had to read out my tasting notes. I'm getting better at confirming my notes and not being a nervous wreck when reading them out loud – and much to my surprise, it turns out that my set of notes was good and mostly true to the wine. And so I was happy! The only thing I didn't do was come up with a country that this was from. Not enough girth to be Alsatian, nor crisp and neutral to be the style done up as (or done down as) Pinot Grigio. The ones I've had from BC have been more obvious in oak (perhaps this isn't a generalization), and so I was undecided.
And it's weird, because I don't remember ever having a Pinot Gris so overt in its stone fruit notes. The wine was softer and lower in its acidity, but didn't hide behind the forms of oak and insipid neutral character that I'm used to. It's very interesting how a relatively inexpensive bottle can be so informative.
Pinot Gris isn't as popular as Pinot Grigio, but it's still pretty popular. The former tends to be fuller bodied, spicy, and more concentrated; the latter is usually picked early to retain acidity in exchange for not having ripened its phenolic characteristics. But both grapes tend to straddle the middle parts of the scale – arguably, they hardly reach the low or high scale of anything, including their intensity – they're safe, pleasantly-sounding grapes, and my classmate cleverly named it the "baby bear's oatmeal of the wine world". This wine in particular is somewhere in between the full Alsatian style and the lighter, more neutral fruit-driven ones of Italy. So, a good example.
Pinot Grigio is eye roll-inducing, but it's definitely worth exploring the Gris side of this Pinot. I've had stunning examples from Alsace – the fuller-bodied concentrated examples are nothing to shake a stick at; I've seen interesting examples from BC as well. Sometimes I feel like I judge the Grigio too much – there is a reason why its likeable, but I wish people would stretch their horizons.
(Apparently this bottle isn't available in this market at all – this is a predicted price.)
Producer: Hunter's
Designation: N/A
Region: New Zealand
Sub-Region: Marlborough
Variety: Pinot Gris
ABV: 14%
Vintage: 2011
Tasted: June 12, 2013
Price: $18