2008 Alpha Estate "Turtles Vineyard" Syrah
Tasting Note:
Eyes: clear, deep purple, legs
Nose: clean, med intensity, youthful, black pepper, cured meat, black cherry, game, sweaty, bitter tea leaf, floral, oak, sweet spice, black fruits, smoke
Mouth: dry, med+ body, med+ acid, med+ fine tannin, black fruits, savoury, med+ flavour intensity, med+ length, sweet spice, gamey, black cherries, tar, dark fruit
All in all: Very good quality: although relatively high, the structural components are well woven into the wine, which shows a complex profile of dark fruit and savoury characteristics. The alcohol is a bit warming, but the wine is persistent. Drink now, but has potential for short-term ageing.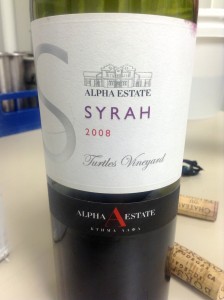 [Tasted during WSET Diploma class – Section 1 – Week 9]
First of all: "Turtles Vineyard".
Turtles Vineyard. Yes.
Okay. So besides the Saint-Estèphe we tried just before, this wine was probably my favourite of the night. Despite the fact that my sickness dampened my smell receptors, what I got out of this wine was pretty damn good.  Classic Old World Syrah on the nose: dark concentrated fruit with earth, black pepper, game, and a marked bitter tea leaf quality – probably my take on the floral characteristic that got lost in the translation from the glass to my nasal cavity. The tannins were quite drying, but were ripe and balanced.
The wine definitely had well-integrated structural components, a balanced palate, and a long length – and despite the slightly warming alcohol, this is a great value and a cheaper alternative to some Old World Syrah that might disappoint you now and then. The instructor was asked what sort of characteristics would make this particular wine be pegged as Greek as opposed to the Rhône – he said that he himself would not be able to tell, and that this wine is pretty similar to young and bold (northern) Rhône examples of Syrah.
It's a shame that many people overlook Greek wines. And it's not like BC has a wide selection either, so I really hope selection grows (and attitudes change) over the next decade or so.
Part of me regrets not buying that Syrah-Xynomavro blend that we carried at one point.
Producer: Alpha Estate
Designation: "Turtles Vineyard"
Region: Greece
Sub-Region: Florina PGI
Variety: Syrah
ABV: 14%
Vintage: 2008
Tasted: June 5, 2013
Price: $29