2011 Citra Trebbiano d'Abruzzo
Tasting Note:
Eyes: clear, pale lemon-green, legs
Nose: clean, med- intensity, youthful, citrus, mineral, lemon, earthy, vegetal
Mouth: dry, med- body, med+ acid, med- alcohol, med- length, med- flavour intensity, mineral, creamy texture, soft, citrus, pear
All in all: Acceptable quality: relatively inoffensive and refreshing, but there seems to be a lack in intensity, concentration, balance, and persistance. Drink now; not suitable for ageing.
Identity guess: Inexpensive (Trebbiano/Pinot Blanc/Viognier) from Alsace; 2 years old.
Is really: Inexpensive Trebbiano from Italy; 2 years old.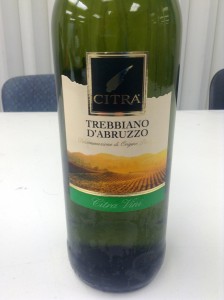 [Tasted during WSET Diploma class – Section 1 – Week 8]
This was a real tossup between wines one and three in the lineup, because they both seemed rather neutral to me at first, but this wine was clearly of lesser quality. All the Pinot Blancs I've had were rather on the light to medium side, leaving the intense and heady second wine for me to guess as Viognier. Leave it up to me to get all three wrong despite only three white options for this session. Hurrah! Josh sucks at alcohol.
There isn't much to say here. I initially pegged this as good quality because the components weren't as imbalanced as I thought they were, and a slightly soft and creamy mouthfeel (confirmed by some other tasting notes by classmates) gave the impression of a concentrated mouthfeel, but I guess that's the trap. Simple, short length, and lacks any real character.
Which is the norm for Trebbiano (except for the dubious Trebbiano d'Abruzzo which by law may even be 100 percent Bombino Bianco and not Trebbiano at all), prompting one of my classmates to say that Trebbiano is essentially the Coors Light of wine.
Producer: Citra
Designation: N/A
Region: Italy
Sub-Region: Trebbiano d'Abruzzo DOC, Abruzzo
Variety: Trebbiano (we can hope)
ABV: 12%
Vintage: 2011
Tasted: May 29, 2013
Price: $10 (1L)