2012 Clos du Soleil "Grower's Series – Chegwin & Baessler" Pinot Blanc
Tasting Note:
Eyes: clear, pale lemon, legs
Nose: clean, med+ intensity, youthful, apple, pear, floral, lemon, stone fruit, slight vegetal note, mineral
Mouth: dry (but I'd say between dry and off-dry), med body, med+ acid, med alcohol, med finish, med+ flavour intensity, pear, apple, almost-ripe peach, peach pith, creamy texture, slight savouriness
All in all: Good quality: this wine has both great balance and intensity with a big fruitiness that isn't jammy and aimless. The main negatives include a length that could be longer and a nose that doesn't go farther than fruits. Drink now; not suitable for long term ageing.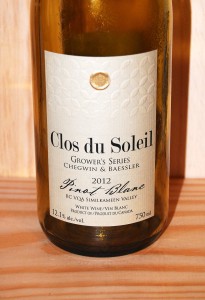 Ah, Pinot Blanc. The variety that seems to be compared to the godlier Chardonnay, and the same variety that seems to be in the shadow of its other Pinot brothers and sisters.
Pinot Blanc is the unappreciated child that everyone either ignores or is patient for. Barbara Philip MW, wine rockstar and one of the individuals in the latter category, is known around these nerdy wine hills for writing her Master of Wine dissertation on the awesome potential of this variety in British Columbia.
I can't say that I'm an exception. This is the first Pinot Blanc I've taken notes on. I'm such a horrible wine parent.
As a result of its unpopularity, though, not a lot of people have a true grasp of this variety. A couple of blind guesses of this wine from others included Viognier, Torrontes, and Muscat. I think it's more akin to the green to stone fruit bowl that is Ehrenfelser, but with a heavier and textured mouthfeel and higher acidity. (It's hard to say, because Ehrenfelser is more alien to me. Drink more?)
This wine is fresh, fruity, but not without a method to its madness. The creamy mouthfeel is gracefully washed away like an ocean wave continually melting a sandcastle, and a slight sassy peach pith tartness at the finish reminds me of the sun. This Pinot Blanc in particular will appeal to the (patriotic) fruit-loving wine-savvy, and I will gracefully bore customers to death about this variety just before they change their mind and leave the store.
Perhaps one day Pinot Blanc and Riesling will stop spending lunch hour inside talking about minerals and playing board games and will beat up the macho Cab Sauvs and popular Chardonnays of the world.
Producer: Clos du Soleil
Designation: Grower's Series – Chegwin & Baessler
Region: Canada
Sub-Region: BC VQA Similkameen Valley
Variety: Pinot Blanc
ABV: 12.1%
Vintage: 2012
Tasted: May 12, 2013
Price: $25