2011 Aresti Chardonnay
Tasting Note:
Eyes: clear, pale lemon, legs
Nose: clean, med- intensity, youthful, melon, mineral, citrus, hints of stone fruit, hint of butter
Mouth: dry, med body, med acidity, med alcohol, med- flavour intensity, med- finish, citrus, mineral, melon
All in all: Good quality: the medium elements give some sort of substance and balance to the wine, and the concentration contributes an elegant nature, but the wine does have a relatively short finish and simplicity. Drink now; not suitable for ageing.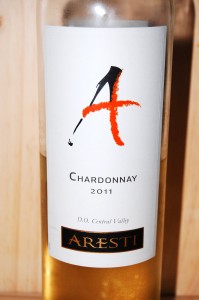 I'm not going to lie: I expected a little bit more from this wine, since Chile seems to surprise me with their take on some grape varieties. I've had the Aresti Syrah Reserva which was of good quality, so I don't doubt the skill of the winemaker. According to Wine Spectator, grapes were harder to ripen in 2011, and wines produced will have been more elegant. For a region that doesn't have as much vintage variation as, say, Bordeaux or Burgundy, I'm interested to see how a sub-20 wine like this might differ in another year.
I will say that this wine is fresh and simple – a nice little alternative for Pinot Grigio seekers or for those who insist on a non-fruity wine which often shouts Old World to me, but here's an example of one from the New World. Often, wines around this price (that I've seen) tend to lean towards the fat, fruity, and soulless on the scale of things, so it's partially intriguing to me that this fills a different niche.
The wine has a bit of residge that adds a little bit of complexity, mostly devoid of any intense character with a moderate stroke of balanced minerality as it finishes.
(Some of my colleagues liked it much more than I did – not that I dislike it by any means. They thought it was from the Old World, which isn't surprising.)
You'd think enjoying the sun or studying for the WSET Diploma would be more suitable than tasting wine at 1PM.
Eh. Well.
Producer: Aresti
Designation: N/A
Region: Chile
Sub-Region: Central Valley DO
Variety: Chardonnay
ABV: 13%
Vintage: 2011
Tasted: May 7, 2013
Price: $14