2009 Clos de los Siete
Tasting Note:
Eyes: clear, deep ruby, legs
Nose: clean, med intensity, developing, earth, musty, pepper, spice, blackberry, black fruits, blueberry, blackcurrant, oak
Mouth: dry, med+ acid, med+ fine tannin, med+ alcohol, med+ body, med+ flavour intensity, blackberry, blueberry, earthy, gamey, savoury, bitter, med+ length
All in all: Good quality: the flavour components are intense and concentrated as is the structure, with a well-integrated acidity and a high level of smooth tannin; however, there is a bit of a bitter finish. Drink now, but has potential for ageing.
Identity guess: High-priced Shiraz from Australia; 2 years old.
Is really: Mid-priced red blend (57% Malbec, 15% Merlot, 15% Cabernet Sauvignon, 10% Syrah, 3% Petit Verdot) from Argentina; 4 years old.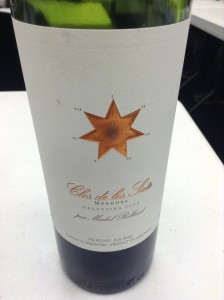 [Tasted during WSET Diploma class – Section 1 – Week 6]
First off: the label and the name. My unpracticed language skills tell me that the name of this wine roughly translated means something like "the walled vineyard of the seven". Can we just discuss how Game of Thrones-y that is? I don't even care if this is a bottle of complete shit – I'm sold by a combination of both nerdy and religious marketing (Also Michel Rolland's name is on the label but whatever).
With a wine that looks and tastes so extracted, I expected the nose to have more than a mere medium intensity. There were developing aromas of earth, must, baking spices, and dark fruits, and my guess of Shiraz was one of uncertainty – although I did think northern Rhône at one point. The deep colour usually alludes to either a grape with thick skins (and/or small berry sizes) or deliberate extraction.
I did note that the nose had some Malbec-y characteristics, but the black and blue fruits were supported by a deeper, darker, and stronger structure. Low and behold – it wasn't just Malbec or Cabernet or Syrah – it was three (or four, depending on who you are) Bordeaux grapes with their foreign cousins.
I was surprised that this was only $25 – I find it's tough to get good extraction at that price. A large proportion of the class slid it into the "very good" category, which isn't surprising to me at all – but my first instinct was the "good" category as there was a slight bitterness on the finish that I feel may have stemmed from that deliberate extraction.
Blah blah blah. Game of Thrones. (Also see here, though.) A coworker may or may not be convinced to watch at least the first season with me and another coworker, and I actually can't wait. Perhaps this wine shall serve us well.
Producer: Clos de los Siete
Designation: N/A
Region: Argentina
Sub-Region: Mendoza
Variety: 57% Malbec, 15% Merlot, 15% Cabernet Sauvignon, 10% Syrah, 3% Petit Verdot
ABV: 14.5%
Vintage: 2009
Tasted: May 15, 2013
Price: $25