2011 Intrigue Riesling
Tasting Note:
Eyes: clear, pale lemon
Nose: med+ intensity, developing, citrus, pineapple, petrol, yeast (crackers)
Mouth: off-dry, med- body, med acid, med- alcohol, med intensity, med- length, citrus
All in all: Good quality, drink now.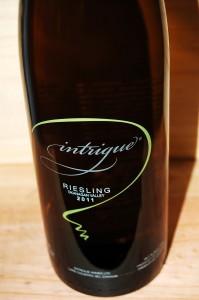 This has quite an intriguing nose (ZING!). I finally see some stronger aromatic character compared to the various Rieslings I've tried lately, and a bit of fruity petrol character is what I notice right off the bat. There is a significant amount of an off-beat cracker-like aroma, which I can only assume stems from yeast character. Unlike some wines I think this weird aroma adds complexity.
The palate is juicy, light and has a bit of tartness. I prefer more zip to my off-dry Riesling, but the slightly more tropical expression coupled with the low acid gives this wine a bit more of a relaxed edge, almost like a Riesling-Torrontes lovechild. Low acid whites always scream summer evenings to me. Perfect, considering the crazy amount of no rain this city has been having. It's weird – all you need is that one weirdly and noticeably warm day, and then it feels like it's all downhill from there.
Producer: Intrigue
Designation: N/A
Region: Canada
Sub-Region: Okanagan Valley
Variety: Riesling
ABV: 12.1%
Vintage: 2011
Tasted: March 28, 2013
Price: $20