2011 Sokol Blosser Pinot Noir Rosé
Tasting Notes:
Eyes: clear, med- salmon
Nose: clean, med intensity, developing, earth, mineral, cranberry, citrus, spice
Mouth: dry with sweet impression, med- body, med+ acid, med length, med alcohol, med+ intensity
All in all: Good quality; drink now.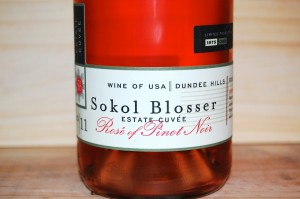 Sunny weather calls for sunny wine. I haven't bought rosé in a long time, nor has the weather and time called for it (even though I twitch every time a customer shoots down the idea of drinking rosé any other time but the summer).
Today I had the opening shift so I get off earlier, and it's a beautiful day with no clouds. Therefore, I am on my patio happily enjoying this wine. It's starting to get cold outside, but geez let me enjoy this moment with the 17 minutes that I have with this sleeveless shirt and these work-inappropriate shorts.
The nose is fairly restrained. There is more mineral and a slight earthy touch to the nose, with mainly citrus and perhaps a small inkling of red fruit. A touch of spice as well. This is one of those rosés where if you had this out of a black glass, it would be tough to guess the colour. For me, at least.
The nose has a distinct and specific mineral nose of rainwater – that sort of rainy humid smell just before a cloudburst. Restrained on the fruit, basically.
The palate is quite the opposite. Intense and ripe flavours display themselves on the tongue and despite the small amount of residual sugar, this would still be classified as dry. A zingy acidity gently appears, and a subtle shadow of a savoury streak makes itself present. Any food that this calls for must be delicate, as this wine isn't very strong or intense.
I'm not entirely sure I get much rosé character out of this than I do white. There is a bit more body to this wine which I enjoy, and the lively palate adds lots of character without being flamboyant about it.
Okay, it's getting cold. I'm taking my glass of sunshine inside.
[Edit, May 1, 2013: Apparently it's supposed to be reaching highs of 21 degrees Celsius this Sunday! Unfortunately I'm working, but oh well.]
Producer: Sokol Blosser
Designation: N/A
Region: USA
Sub-Region: Dundee Hills AVA
Variety: Pinot Noir
ABV: 12.5%
Vintage: 2011
Tasted: March 31, 2013
Price: $27