2009 Castillo de Molina Cabernet Sauvignon Reserva
Tasting Note:
Eyes: clear, med ruby, med- ruby rim
Nose: med intensity, developing, green pepper, spice, black fruit, cola
Mouth: dry, med bodied, med acid, med tannin, med+ length, med+ alcohol, med+ intensity, savoury dark fruit, vegetal
All in all: Good quality; drink now.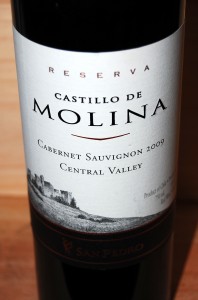 My favourite thing about the wine is the nose. Classic Chilean dark fruit with green pepper characteristics always please me, but my one pet peeve with heavy grape varieties is an atypical, lighter body. That's just me. There are people out there who want the nose of a Cab with a lighter body. You're allowed to want these things – hell, I ordered a special hot dog a couple weeks ago and ordered two different sides with a half portion of each.
But yes – the palate is lighter than expected, and the tannins than are slightly lighter than expected as well. The palate is fruity, and a touch savoury. A low but noticeable amount of residual sugar makes me stroke my wine-stained chin, but I understand why it's there.
This is not a top-notch wine, but it definitely caters to a certain crowd – I mean, you have the wines than bridge drinkers from whites to reds or Old World to New World but this wine bridges the gap between lighter wine and big boy Cab – and this wine is somewhat of a baby Cab. Although clearly attempting to appeal to a mass audience, I'm still impressed with the typical nose – some mass audience-intentioned wines can often be devoid of any character.
Producer: Castillo de Molina
Designation: Reserva (no legal definition for Chilean wines as of yet)
Region: Chile
Sub-Region: Central Valley
Variety: Cabernet Sauvignon
ABV: 14%
Vintage: 2009
Tasted: March 28, 2013
Price: $15