NV Maison L. Tramier & Fils Roncier Rouge
Tasting Note:
Eyes: clear, med- to med ruby, watery rim
Nose: pronounced intensity, developing, earth, dried red cherries, mushroom, spice, black olives
Mouth: light bodied, med acid, low tannin, med+ alcohol, med intensity, med- length, earth, stewed red fruit
All in all: Good quality; drink now.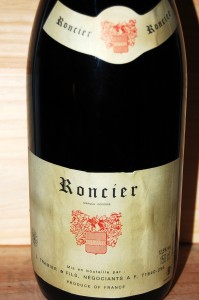 The nose is quite rustic: almost in an oxidative Spanish kind of way. I also get some vegetal mushroom or black olive character going on, which is reminiscent of some Negroamaro or even some French Syrah that I've had. So far, very atypical. A dominant dried cherry note even reminds me of Sangiovese, and I can't decide whether or not this wine would be best marketed towards wine-savvy customers who are used to a rustic style despite lack of a vintage or Protected Geographical Indication, or towards those who want a fruity-earthy bridge wine, for the same problem.
That being said, this wine is a lot more earthy than I expected. The palate is light but not entirely Pinot-silky. A bit of rusticity roughens up the wine with light yet chunky tannins and a savoury back-palate. A stewed fruit character also appears. The wine does not leave the palate without a hitch, and a soft footprint of warmth is left before entirely finishing. In a blind tasting, I would definitely have guessed this as either Spanish or Italian before French.
Although adding complexity, I'm wondering if that oxidized character was a lucky mistake stemming from sloppy winemaking (e.g. not careful with oxidation). That being said, this is a non-vintage blend; at best, I'd be surprised to see if this was a solera-style still red wine (yes, they exist!). I guess it's fair to see this character out of a wine that's a blend of vintages.
Producer: Maison L. Tramier & Fils
Designation: Roncier
Region: France
Sub-Region: Burgundy?
Variety: Mostly Pinot Noir. I remember reading somewhere that there is also a minor proportion of Syrah and Counoise in the blend.
ABV: 12.5%
Vintage: NV
Tasted: March 28, 2013
Price: $20; $35 for magnum