2011 Yali Sauvignon Blanc
Tasting Note:
Eyes: clear, pale lemon
Nose: clean, med intensity, youthful to developing, green pepper, green bean, savoury spice, citrus
Mouth: dry, med- bodied, med acid, med length, med- alcohol, med intensity, mineral, spice, green pepper
All in all: Good quality; drink now.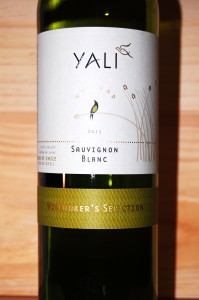 There's something about Chilean Sauvignon Blancs that I'm quite partial to. Rarely really appreciated, they're pretty much in the camp of hipster wines, like Cab Franc or Chenin Blanc. Unlike those varietals, though, it's not that this particular style isn't very known – it's just the fact that these flavours can be off-putting despite the unmistakable or familiar aroma and character.
Typical nose. Compared to other Sauv Blancs from other regions, we get a nose dominated with methoxypyrazines, which I love. It's a subjective thing, and some people hate them so much even to go as far to consider them as faults, but this wine is chock full of them and should be. This character is reminiscent of that wacky yet loveable kid in class that the teacher always hates on for no reason.
The nose is almost salsa-like. Vegetal and then citrus aromas are present, and I can't help but think of tacos. I think you should pair this (and Chilean Sauv Blancs) with Mexican food.
I do love the nose, but the wine lacks a bit of acidity and a maybe a little more fruit. Otherwise, it's a nice introductory wine for something out of the ordinary.
Also, how do you pass up something from the "Lolol Valley"?! YOU CAN'T. LOLOL.
Producer: Yali
Designation: Winemaker's Selection
Region: Chile
Sub-Region: Lolol Valley
Variety: Sauvignon Blanc
ABV: 12.5%
Vintage: 2011
Tasted: March 21, 2013
Price: $16