2011 Chateau de Pennautier Viognier
Tasting Notes:
Eyes: clear, med- lemon, pale rim
Nose: med- intensity, youthful, apricot, mineral, citrus, floral
Mouth: dry, light to med- body, med acid, med length, med+ alcohol, med- intensity, mineral, savoury, bitter citrus rind
All in all: Good quality; drink now.
After having been curious about this bottle of wine for a while, plus a lack of knowledge on the Viognier of the Old World, I decided to give this one a go. There's something about a classic-looking label with a pretty shade of orange. I'm so easy, hey?
Plus, I bought a bunch of beer for cellaring and decided to go for the sub-20.
The nose seemed very restrained to me. Old World coming through, perhaps, and any stone fruit character was restrained with an equal or greater amount of mineral character. There is a touch of floral on the nose, but the complexity ends there. Cool.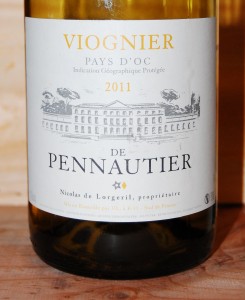 This wine ends up tasting like a stone with a squeeze of citrus, if not bitter citrus rind. Any fruit dissipates with the seemingly round and lively attack, and you're left with a tongue-coating stony savouriness. There isn't enough fruit to balance the minerality. Every aspect on the palate seemed rather unpleasant to me at first, but that attack is barely a silver lining. I can see a fan of non-fruit enjoying this, but even I find some pleasure in that area. It's just not woven together properly.
Producer: Chateau de Pennautier
Designation: Lorgeril
Region: France
Sub-Region: Pays d'Oc
Variety: Viognier
ABV: 13%
Vintage: 2011
Tasted: March 10, 2013
Price: $18