2013 Term 2 Week 8 – "Catching up".
Reading break. Can't say it was particularly productive as I thought it should've been, and instead, my budgeting app decided to colour everything red because I spent too much this month.
What I planned to do:
– Catch up on all school readings! Complete notes, sample problem sets, and previously undone worksheets.
– Hang out.
What I actually did:
– Memorized all 61 Châteaux of the 1855 Bordeaux Médoc Classification including respective growths and communes.
– Hung out.
Saturday and Sunday were full of work and the self-promise of getting started on readings at the very least. That totally didn't happen, and the waterfall of deferring work had begun.
On Monday, I hung out with co-workers at the Alibi Room for their 400th beer list; subsequently hung out at the Punisher's place for a crappy beer marathon, classy food, and Cards Against Humanity. I still have a couple of those beers in the fridge and I'm convincing myself that it's a bad idea. Resist, Josh. I whisper some kind of sad "it's just empty calories" excuse to myself and I'm wondering whether it's more pathetic that the excuse works or the fact that it's 3AM and I really just want a beer. Hey – just living up to my blog's catchphrase.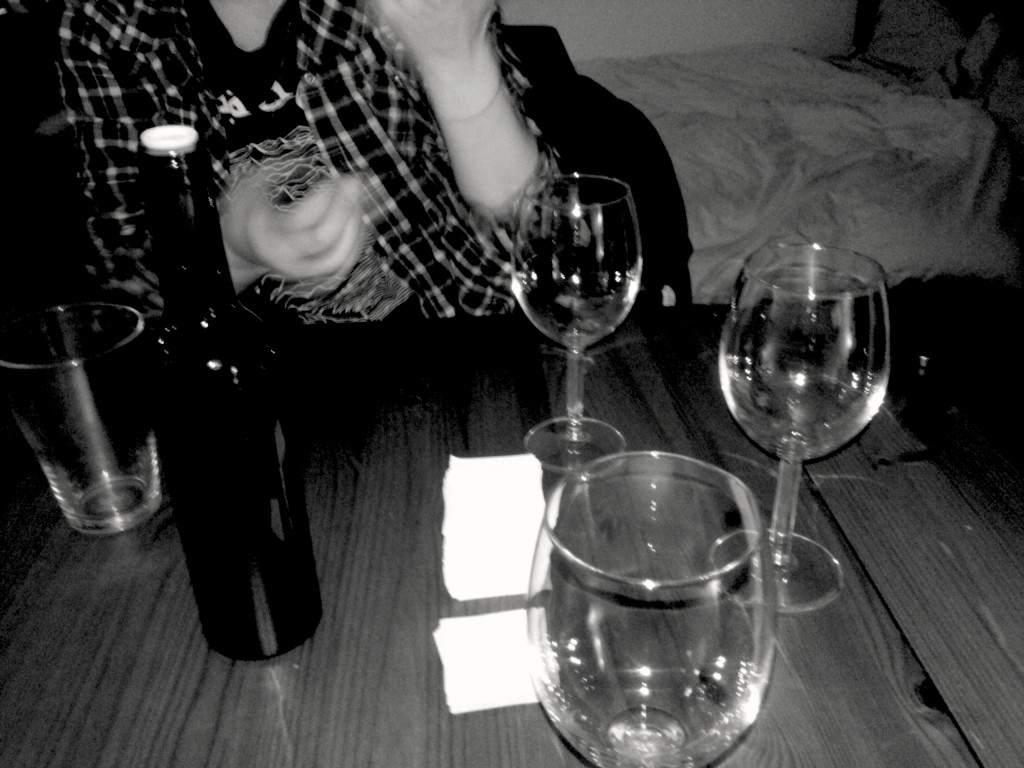 Celebrated Kody's birthday on Tuesday. Went for dinner @ Red Robin's. Of course, I told myself I would maybe make myself useful before going out that night. Perhaps do a quick reading for one course or work on some chemistry problems. Nope. I did however, enjoy amazing homemade cake for the occasion (made by a friend, here), the Canucks game (a close one), a hilariously generic wine list, and a 5-second GIF-worthy moment of a server dancing, but of course that was really creepy for me to have noticed anyways.
I worked on Wednesday. I think pizza was involved. It's hard to tell, sometimes. There may have been Sauvignon Blanc. I know, right?!
I did not have work on Thursday but I did some non school related reading. I remember getting dressed to meet a friend at UBC for studying and then realizing I really wanted to memorize the châteaux of Bordeaux instead, and so I stayed at home. I'm an asshole.
And so on Friday I was like no, you have to study! But how can you stay in on the Friday night of your reading break? So a couple of friends and I went to go see Silver Linings Playbook which I surprisingly liked, and which you should pair with Juliénas. After we went for all-you-can-eat sushi which was yet another reminder that any forceful physical motion to my stomach plus a microphone can provide enough dubstep to a nightclub for 2 minutes straight.
Family gathering on Saturday after work, and I also had a pretty funky wine! I'll post about if when I'm not a lazy ass.
Work on Sunday mostly involved me refreshing an Oscars live feed to see who was winning things. I was rooting for Emmanuelle Riva for Best Actress, but I've now decided that Jennifer Lawrence is a goddess.
I'm not really looking forward to the coming weeks. I love science, but it's coming to that part where it's getting particularly dull, chore-like, and all I want to do is read about Alsace. I sometimes try to limit myself by reading a bit of wine literature in bed before I sleep, almost like a teenager reading his dad's magazines with a flashlight under the covers.