2013 Term 2 Week 7 – Finally sort of.
The last push until reading break, which will pass by just as fast as any other week. But hey – no school, and guilt-free no school at that. I can already see my study plans failing miserably. OH WELL.
This week was chock-full of meetings and classic school avoidance, so reading break will be a combination of me relaxing (procrastinating) and catching up on things to prep myself for the crappy latter half of this semester, which will mainly involve me begging my BIOL 210 to let me write my exam on another date. I have my first WSET Diploma class on that day! Legitimately sucky.
Monday was BC's first Family Day, and I spent it with co-workers since two of us were leaving for other things. Sad, but that means an excuse to celebrate! Things that were had:
– (Rainier)
– 1996 De Venoge Champagne (Magnum)
– 2010 Josef Chromy Riesling
– 2006 Caymus Cabernet Sauvignon
– Coal Harbour Hunter's Moon Roggenweizen
– 2007 Graham Beck The Game Reserve Shiraz
– (Rainier)
My co-worker has a cat and I needed to take allergy medicine beforehand. I think that and the alcohol combined for some bad news and head pains. Because I was dying by the time we were watching videos about toilets at around 2AM.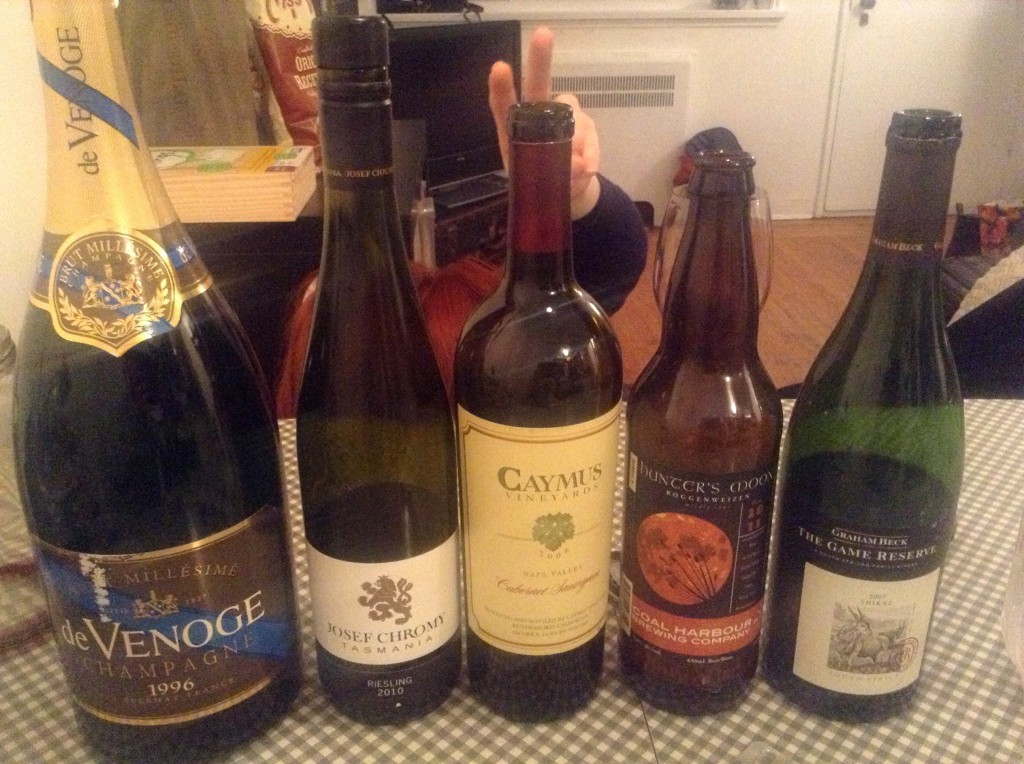 BIOL 210 – Vascular Plants
As much as I love this class I just couldn't do it this week. We had our lab midterm on the Thursday which was decent but the only thing that I learned during my midterm was that my eyes are weirdly proportioned. I always had to adjust that part of the microscope when we changed stations.
Thursday was also the day of meetings. I mean, it's not that many – I had 2 – but there's something about the thought of a meeting or the waiting period of a meeting or maybe the process of a meeting itself that renders me tired no matter what.
BIOL 234 – Fundamentals of Genetics
Not bad. I don't remember how many I attended, but we're learning about linkage and distances of genes or whatever. Cool! I'll add that to the reading list.
CHEM 205 – Physical Chemistry
No
FNH 330 – Introduction to Wine Science
No. And also apparently everyone in lab got to try Champagne. I was jealous and then I realized I partially consumed a vintage mag of it in the same week. Pff. FNH 330, try me.
One of the meetings on Thursday was for the UBC Wine Club – we collaborated with the UBC Jazz Café and had live music in our tasting room, with an additional special cost for members of the other club and vice versa. Super-awesome turnout, and many people loved the wines. None were particularly complex, but were still Friday-night-quaffable. You can't go wrong with Moscato, especially if the crowd is 95 percent university students who drink other things.
It's tough "buying" for a crowd of the university student age: when I started helping out around a year ago, I wanted to show off amazing wines from different regions as much as possible. There entered the difficulty of being a teacher of anything, where learning styles clash: some students just want to drink, some students are legitimately wanting to learn and be taught, and some students would like to learn, but on their own.
So I'm conflicted as to whether or not to lead students through a tasting, or do a mainstream self-paced tasting format, or to pick drinkable (and simple and economical) wines for students to be introduced with. To make matters even more difficult, all three answers apply in almost equal proportions, and predicting the pattern with a natural dwindling attendance rate makes things harder.
I sincerely hope this week doesn't consist of me… not doing work. That would be a shame. Speaking of which, I'm scheduled to be somewhere tomorrow at some time for a beer tasting. Oh well.