holiday wines with the co-workers
Overdue post, but it's all good. Some time in December one of us hosted another staff get together complete with an amazing multiple-course home-cooked meal, which included:
– roasted celeriac soup
– kohlrabi slaw with cranberries and walnuts
– beet salad (with goat cheese)
– braised white beans
– roast chicken
It was so good that most of the food is still weirdly vivid in my mind despite this being around 4 weeks ago. Alas, I don't remember the wines as well – I do remember one of us trying to act as a lion for a charades clue. The phrase was "The Chronicles of Narnia".
Oh, and one of us was sick which sucked, which means we had no mashed potatoes. Oh wellzies.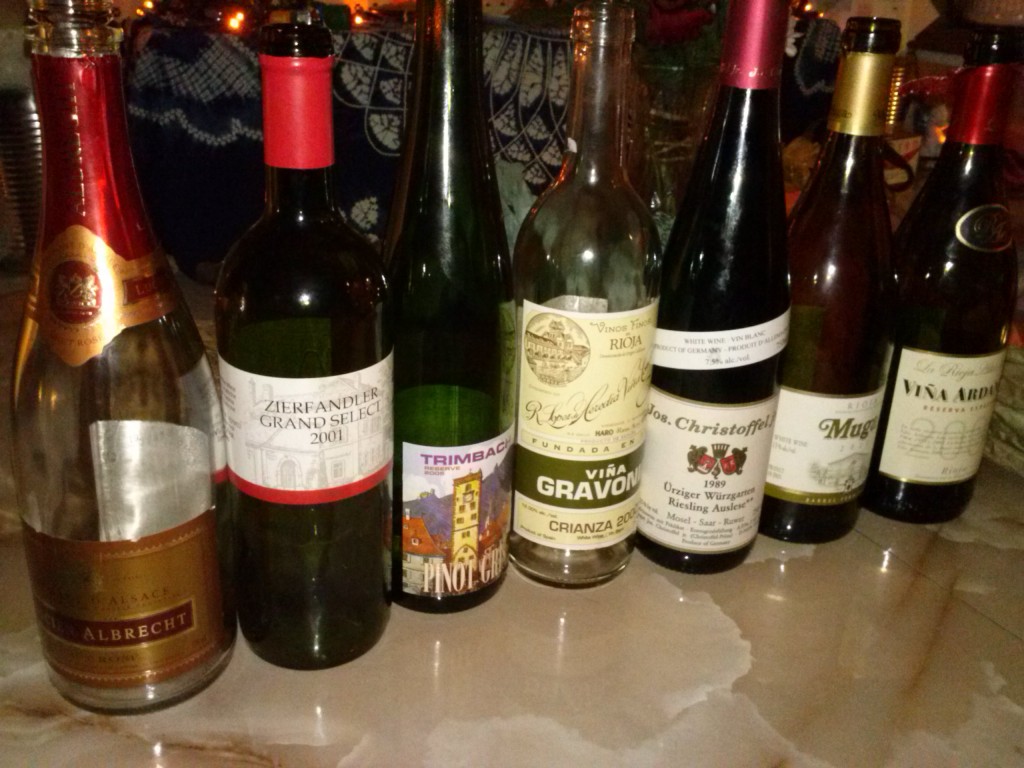 But yes – one of us introduced a game, which involved the random creation of nouns into a hat. After being split into two teams, there were three rounds where we had to give hints to our team mates in something like a minute – all of the words are reused for each round. First round: a game of catchphrase; second round: a game of catchphrase using only three words; and the third phrase: charades. It's not easy acting out "Like a Virgin".
1) NV Lucien Albercht Crémant d'Alsace Brut Rosé
Much more delicate than your savoury and meatier style of sparkling rosé. This one was more delicate and clean. Some cranberry notes and a touch of residge to round it out. Great contrast and pairing with the garlic-heavy soup. Made from Pinot Noir if I remember correctly. I clearly remember this one the least – thank goodness I uploaded these along with short descriptions on the good old Facebook before I forgot too much – AND, I didn't use the shift key. Aren't I so dangerous?
2) 2011 Muga Rioja Blanco
Haven't had many white Riojas but the one I do remember having was chock-full of canned stone fruit on the nose, which sounds like something created for mass appeal, but it's legitimately delicious. This one is more serious – the lees-y character was reminiscent of Chardonnay. Still quite young and I would love to see more secondary and tertiary character come through.
3) 2000 Viña Gravonia Crianza Rioja Blanco
Took forever to guess. Subtle lees-y aged buttery Chardonnay-like quality but at the same time had slight brininess (Muscadet, is that you?!) which gave it freshness. Balanced, relatively high acidity, can age, pretty label. The '92 is also on the market, and I was also stunned to find out that this particular bottle was purchased at around the mid-20 range. WHAT
4) 2001 Grand Select Zierfandler
An absolute steal for 30 bucks: clearly people aren't buying it because of an obscure grape variety if not lesser known country for wine if not basic bordering-on-ugly label. Graceful oxidized apple and slight nutty notes with a surprising acidity to match. Broad and ripe on the palate – ready to draaaank, but can defs age for a couple more years. Some guessed an aged Chenin Blanc. Cork almost broke into the wine (I'm convinced I would make a shitty sommelier because I'm ungraceful as fuck) but luckily only a light powdering made it into the first unlucky glass (the Punisher's glass).
5) 2005 Trimbach Pinot Gris Reserve
Fewer and fewer memories. Alcohol is like a liquid eraser. This was somewhere in between a Riesling and a Gew. 'Twas fantastic! Some residge.
6) 1989 Jos. Christoffel Ürziger Würzgarten Riesling Auslese
The Punisher brought this over from Calgary. It was awesome. I think I drunkenly tried to take a picture of this and I thought it worked but it didn't. Clearly, or else there would've been a photo here.
7) 2001 Viña Ardanza Rioja Reserva Especial
The only note I have for this is "orgasm". I trust it.