2009 Cascina Castlèt Barbera d'Asti
Tasting Notes:
Eyes: clear, medium ruby, a little hazy?
Nose: med+ intensity, developing, cherry, hint of red fruit roll-up, wood spice, smoky, oak, touch of floral, vanilla
Mouth: dry, med- body, low to med- tannin, med+ acid, med to med+ alcohol, med+ intensity, med length, black pepper, expressive, cherry, savoury finish, blue fruits
All in all: Good to very good quality; drink now, but has potential for ageing.
The store was not as busy as I thought it would be. There were a couple of costumes here and there but nothing too wild. Which was great! I find Halloween @ UBC to be such a pooper, though, because no one dresses up – and even though I sort of hate Halloween, it kinda sucks when you're all up in the Halloween spirit and end up embarrassed because you're the only one in a 200-person lecture that decided to dress up. BUT – it sort of works if you're dressed up as Waldo. Two years in a row. Shh. I made a friend last year by dressing up as Waldo. She still calls me Waldo.
So the wine I was blinded with today was quite solid and delicious. At first, the nose was quite smoky in that delicate sense, without overpowering too much of the fruit. Now – although I've had a lot of wines (l0l), I still have trouble telling the difference between certain descriptions like oak and spice, but I was pretty sure there was some level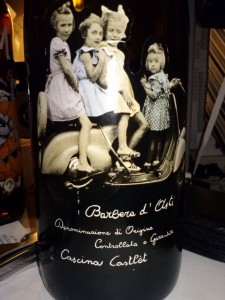 of oak in this wine (which I found out later was Slovenian, which I'm not particularly familiar with). The fruit was subdued at first, and opened up after we let it sit for a while. There were some obvious cherry notes, with a bit of bright strawberry and vanilla, like what you get from red fruit roll-ups or fruit-to-go. The smokiness on the nose almost drew me to something Syrah-like, but the palate revealed otherwise. Definitely Old World on the nose.
The palate was quite expressive (i.e. the opposite of tight). I found the smoky nose almost disjointed (or unexpected, rather, since I haven't had much Barbera) with the relatively light body and tannin, and higher acidity. What stuck out to me, along with the beautifully integrated acidity, was the savoury peppery finish, and I was almost tempted to guess Spain, but Italy was where I eventually landed, and was correct. The Barbera grape was my final (and correct!) guess. Botched the year though. Guessed '06 and beyond backwards, but finally guessed '09 after like seven guesses. I got too excited.
That being said – this was great. I haven't had much Barbera – but I can say with confidence that this is a good wine. Quite expressive, and I would even age this, but not for very long (1-3 years?). Quite elegant. The acidity is well-integrated. I think this is just a small stretch for its price (I guessed 25-30 dollars), and I would expect just a touch more complexity, but that's a small flaw. Barbera is one of the few grapes I remember from class: typically low in tannin, high in acidity, and the affinity for (Slovenian) oak. Great autumn wine.
Producer: Cascina Castlèt
Designation: N/A
Region: Italy
Sub-Region: Asti, Piedmont
Variety: Barbera
ABV: 13.5%
Vintage: 2009
Tasted: October 31, 2012
Price: $34 (Liberty)